Zarrab Takes Jury on Trip Through a Sanctions-Evasion Plot
By and
Reza Zarrab is government's star witness at trial in New York

'He made contributions,' Zarrab says of Mehmet Atilla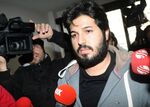 A New York jury got the first glimpse of the intricacies Iran allegedly used to get around U.S. sanctions as gold trader Reza Zarrab detailed a years-long plot involving tens of millions of dollars in bribes that reached the upper echelons of the Turkish government.
Zarrab appeared in a U.S. court for the first time in months to testify against a man accused of being his accomplice in the sanctions-evasion plot. It was a dramatic turn in a case that has dragged on since his arrest in Miami in March 2016. For more than a year, Zarrab sat through pre-trial hearings at the defense table. Then, after all attempts to extract himself from the case had failed, he vanished.
In court Wednesday as a key witness for U.S. prosecutors, he immediately pointed out Mehmet Hakan Atilla, a deputy chief executive officer at state-run Turkiye Halk Bankasi AS, as "the most knowledgeable person about the sanction rules in the bank." Atilla helped "to make our scheme look like it's complying with the American sanctions," Zarrab said, and at several points throughout his testimony he said Atilla had advised on certain transactions, along with Suleyman Aslan, Halkbank's top executive.
Sharing Profits
He also testified that he was allowed to carry out the plan through Halkbank only after agreeing to split profits on a 50-50 basis with Zafer Caglayan, then Turkey's minister of the economy. Caglayan ended up collecting as much as 50 million euros ($59 million), about $7 million and almost 2.5 million Turkish lira ($632,000), Zarrab said. Some of the money was paid to a sibling of Caglayan, he said.
Testifying in Turkish through an English translator, Zarrab detailed for the jury a vast money-laundering scheme designed to help Iran use oil revenues to secretly do business on the international market. At the time, the U.S. was ratcheting up sanctions in retaliation for Iran's effort to build a nuclear bomb -- making a particular effort to cut off access to revenue from oil sales, a crucial source of Iran's wealth.
He spent part of his testimony Wednesday diagramming for the jury a complex schematic to illustrate how the scheme was carried out. Using an array of different-colored markers, he drew flow charts of gold, cash and payment instructions between different entities and their bank accounts from Turkey to Dubai, and said each laundering trade required at least 10 separate transactions. He testified that he ultimately moved "a few billion" euros of Iran's money out of Halkbank using the scheme.
Undisclosed Location
Zarrab entered from the lock-up section of the court, dressed in beige prison garb, while the jury was briefly excused. He passed the defense table without making eye contact with Atilla, who didn't look at him. Since he pleaded guilty and agreed to cooperate as part of a bid for leniency, Zarrab is no longer in jail, but is being held at an undisclosed location by the FBI.
Atilla, who is accused of fraud, sanctions violations and conspiracy to launder money, is one of nine people charged. Others include senior Turkish government officials and bank executives, but only he and Zarrab have been in U.S. custody.
"Cooperation was the fastest way to accept responsibility and to get out of jail," he testified, adding that he had earlier hired U.S. lawyers to explore the possibility of a prisoner exchange between U.S. and Turkey. Zarrab retained former New York City Mayor Rudy Giuliani and ex-U.S. Attorney General Michael Mukasey to try to broker a deal.
The prosecution has sparked tension between the U.S. and Turkey and spurred Turkish President Recep Tayyip Erdogan to claim it's a plot to undermine his country's economy. The Turkish lira fell as much as 0.2 percent to 3.97 per dollar as Zarrab's testimony got under way, its weakest level of the day and lowest on record on a closing basis. The currency has depreciated 11 percent this year, the most among major markets.
Gold Trades
Zarrab said he initially tried to open an account at Aktifbank but couldn't because people dealing with Iran needed special permission. He succeeded after getting help from Egemen Bagis, then Turkey's European Union Affairs minister. Aktifbank was owned by a group led by Erdogan's son-in-law. Zarrab also later testified that he used a third bank, DenizBank, to process some transactions.
Zarrab was soon moving 5 million to 10 million euros a day in transactions, which eventually led to working on behalf of Iran's central bank, he said.
The Odyssey of a Turkish Trader Now Spilling His Secrets in U.S.
The money-laundering business was an outgrowth of increasing demand from Iranian customers starting in 2010, as sanctions were beginning to take their grip, Zarrab said. He operated a foreign-exchange business, which he said he learned from his father.
The work for Iran's central bank didn't last long, but he soon picked up business from the foreign-exchange units of two other major Iranian banks -- Bank Mellat and Sarmeyeh Bank. Aktifbank stopped processing his transactions because it was working directly with Iran. Then, Zarrab said he realized that revenue from Iran's oil wealth had begun piling up in Halkbank, and he devised a plan to help tap it.
He started with a jewelry dealer to test a method of using gold trades to convert Iran's oil revenue to cash and move it back. That worked, he said. Then he approached Halkbank but the general manager, Aslan, refused to deal with him, saying he was "too popular." (Zarrab is married to a Turkish pop singer and was a frequent fixture in society pages.) That's when he enlisted the help of the economy minister, Caglayan, who asked to be cut in on the deal.
"He said, 'I can broker this, providing there's a profit share 50-50,"' Zarrab testified.
In the laundering scheme, the early steps were the most key, he said, and took place entirely within Halkbank -- the transfer of money from Iranian accounts into the correspondent account of Sarmeyeh, which in turn would make a payment to his company. He would then use it to purchase the gold that would be shipped to Dubai.
Though the customs declarations for the trades listed Iran as the final destination of the gold, it never actually went there, he said. Instead, it would be delivered to his office in Dubai and then sold. The proceeds were then turned over to an exchange office with an account at banks in the United States -- he used Standard Chartered as an example -- and would then be used to make payments at Iran's direction.
The case is U.S. v Zarrab, 15-cr-867, U.S. District Court, Southern District of New York (Manhattan).
Before it's here, it's on the Bloomberg Terminal.
LEARN MORE