Ford Shouts 'Ahoy!' to Brand-Wide Rechristening of Luxury Line
By and
Lincoln's top seller MKX gets named Nautilus, Latin for sailor

Marketing chief says brand is likely to ditch MK monikers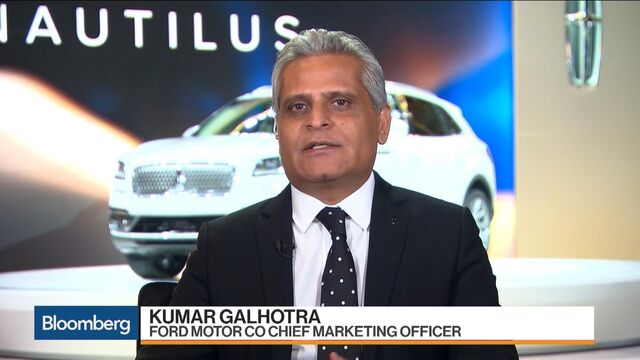 Ford Motor Co. is going to rebadge its Lincoln land yachts after the luxury brand's sales drifted for a decade using a three-letter naming scheme.
Lincoln is toasting the rechristening of its top-selling SUV ahead of the Los Angeles Auto Show this week, changing its name from MKX to Nautilus -- Latin for sailor. The days may also be numbered for the monikers of models including the MKZ sedan and MKC crossover.
"As we bring in new products, I think you'll see us move away" from the MK naming convention, said Robert Parker, Lincoln's marketing chief. The revival of the flagship Continental sedan was "the first step" in switching up the brand's nameplates, he said.
Lincoln started ditching nearly century-old model names in 2006 in a bid to mimic German luxury lines with venerable marques like the Mercedes S-Class and BMW 7 Series. The gambit didn't work -- Lincoln ranks eighth among luxury car lines in the U.S., and leader Mercedes-Benz outsells the brand by a 3-to-1 ratio, according to researcher Autodata Inc.

Ford is now in the midst of a plan to spend billions overhauling its luxury line. The strong sales start for the Continental -- which replaced the MKS last year -- underscores how a decade of alphabet soup did little to whet the appetites of premium car buyers.
"Even as an analyst, I was struggling with the MK nomenclature," said Jeff Schuster, senior vice president of forecasting for researcher LMC Automotive. "Consumers never connected to those names. There was confusion over which vehicle was which. When your name doesn't have recognition, you're losing image."

Parker said Lincoln selected Nautilus for its midsize SUV because it fit the land and sea motif of the Continental and the Navigator, the jumbo SUV that was also just redesigned. He didn't share other names Lincoln is contemplating. The MKZ sedan used to be called Zephyr.

"You don't have to completely reinvent everything to bring life into the brand," Schuster said. "Having some historical connection and having names that make sense for the brand certainly can work."
It also doesn't hurt that historic names resonate with luxury buyers in China, where Ford has said it may eventually sell more Lincolns than in the U.S.
"Names play better in China than alpha or alpha-numeric nomenclature," Schuster said. "This is going to be an extremely important vehicle for Lincoln and for Ford in general."
Before it's here, it's on the Bloomberg Terminal.
LEARN MORE