Bitcoin Futures Get Push Back, Not Stop Light From Watchdogs
By
As cryptocurrency hits $11,000, CFTC scrutinizes derivatives

Agency has limited power to halt CME from allowing contracts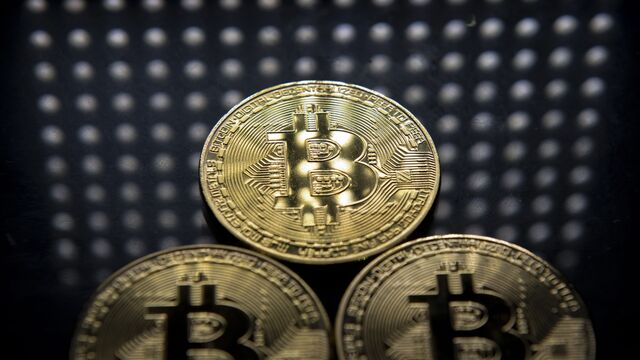 Bitcoin just passed $11,000 and a bid by the world's largest futures exchange to make it even more mainstream is probably inevitable.
But that doesn't mean U.S. regulators will let trading resemble the Wild West.
Since CME Group Inc. announced last month it would bring bitcoin to the derivatives market, the company has been in heavy negotiations with the Commodity Futures Trading Commission. While the agency has limited power to halt CME's plans -- or a proposal from Chicago rival Cboe Global Markets Inc. -- it is demanding changes.
The CFTC has been working with the companies to "address various issues, and to change some aspects of the contracts," Erica Elliott Richardson, a spokeswoman for the agency, said in a statement. "We expect that outstanding issues will be resolved in the near future," she added, without providing specifics.

Bitcoin is on a tear in 2017, an 11-fold surge that took off even more after CME Chief Executive Officer Terrence Duffy announced in October that the company would offer futures trading by the end of the year. The move is considered key to Wall Street's broader embrace of the crypotcurrency, likely enabling increased speculation and -- perhaps some day -- products such as exchange-traded funds.
Still, bitcoin's jump has been met with caution in some circles, and outright dismissal in others. Vanguard Group Inc. founder John Bogle advised investors on Tuesday to avoid the virtual currency "like the plague," while JPMorgan Chase & Co. CEO Jamie Dimon has called it an asset bubble and a fraud.
Under U.S. law, exchanges like CME, which profit from increased trading volumes, can approve new futures contracts themselves. The process, which is used in most cases, is known as self-certification and involves sending a written confirmation to the CFTC that the contract complies with relevant rules. Often, agency officials will engage in a back-and-forth with a company.
Nasdaq Inc. also intends to introduce bitcoin futures and is planning to roll them out next year, said a person familiar with the matter who asked not to be named discussion a private matter.
Spokesmen for CME and Nasdaq declined to comment, while a spokeswoman for Cboe didn't respond to a request for comment.
Read More: Bitcoin's Most-Famous Lovers and Haters Speak Out on the Rally
CME and Cboe have provided the CFTC with draft terms for contracts governing bitcoin futures, said Elliott Richardson, the agency spokeswoman. She added that "concerns about bitcoin futures expressed by some market participants" have been a factor in the CFTC's discussions with the companies.
Earlier this month, Thomas Peterffy, the billionaire chairman of Interactive Brokers Group Inc., wrote an open letter to CFTC Chairman J. Christopher Giancarlo, arguing that bitcoin's large price swings mean its futures contracts shouldn't be allowed on platforms that clear other derivatives. An outsized loss on the digital currency could cripple a firm, preventing it from meeting its obligations to pay out on all sorts of contracts.
"A large cryptocurrency price move that destabilizes members that clear cryptocurrencies will destabilize the clearing organization itself," wrote Peterffy, whose firm is a CME clearing member. That could impair "its ability to satisfy its fundamental obligation to pay the winners and collect from the losers on the other products in the same clearing pool," he said.
The Forks and Fights Behind Bitcoin's Turbulence: QuickTake Q&A
The CFTC has been reviewing CME and Cboe's plans for managing risks associated with bitcoin futures and collateral requirements, said Elliott Richardson. Cboe's contracts will be cleared by Options Clearing Corp. while CME will clear its own futures. CME has estimated that initial margin on the contracts — or the amount of collateral set aside relative to the value of a trade — may be as high as 30 percent, an unusually high amount. 
"Once the contracts are launched, commission staff will engage in a variety of risk-monitoring and oversight activities," said the CFTC's Elliott Richardson. "These activities include monitoring and stress testing positions and observing and analyzing open interest, initial margin requirements, and variation margin payments."
— With assistance by Rob Urban
Before it's here, it's on the Bloomberg Terminal.
LEARN MORE