Australian Banks Face Public Inquiry Amid String of Scandals
By and
Turnbull bows to opposition pressure to hold royal commission

Banks penned letter calling for end to 'political uncertainty'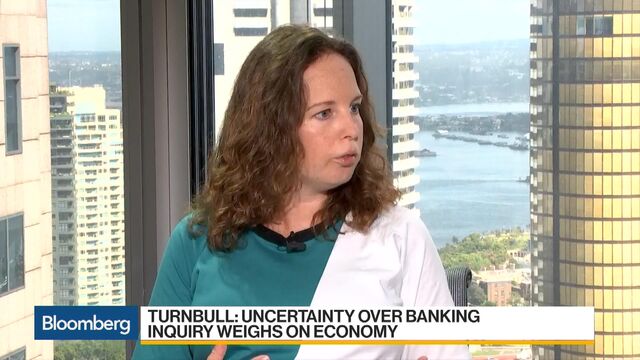 Australia's banks will be subject to a wide-ranging public inquiry after Prime Minister Malcolm Turnbull bowed to pressure to address scandals besetting the industry.
The yearlong royal commission will examine the conduct of the nation's banks, insurers, financial services providers and pension funds, and consider whether regulators have enough power to tackle misconduct, Turnbull said Thursday. He pledged the inquiry would not put "capitalism on trial."
The announcement came just minutes after Commonwealth Bank of Australia, Australia & New Zealand Banking Group Ltd., Westpac Banking Corp. and National Australia Bank Ltd. dropped their opposition to an inquiry, saying in an open letter to the government that months of political squabbling over the issue risked undermining offshore investor confidence. More than A$8 billion ($6 billion) was wiped off the market value of the big four lenders in early Sydney trading, with Commonwealth Bank declining as much as 2.7 percent.
"Ongoing speculation and fear-mongering about a banking inquiry or royal commission is disruptive and risks undermining the reputation of Australia's world-class financial system," Turnbull said. The inquiry will "further ensure our financial system is working efficiently and effectively."
Read more: Why the banks don't need to fear a royal commission
The main opposition Labor party has for months been demanding a royal commission into the finance industry, amid a string of scandals ranging from misleading financial advice, attempted rate-rigging and alleged breaches of anti-money laundering laws. Pressure was growing on Turnbull to hold an inquiry, with some lawmakers in his Liberal-National coalition threatening to force a vote in parliament next week.
A royal commission has the power to compel documents and summon witnesses to answer questions under oath.
"In the short term, this could be embarrassing and has the potential to negatively impact the banks," Frank Mirenzi, a banking analyst at Moody's Investors Service, said by phone. "There may be some waning of investor confidence simply due to the headline risk. However in the longer-term, investors will look through this and focus on the underlying financial strength and well-regulated nature of the banks."
The inquiry is unlikely to "meaningfully alter" the structure of the industry, Mirenzi said, adding the ratings company's assumption that the government would support the big lenders in the event of a crisis -- which underpins their high credit ratings -- was unaltered.

Commonwealth Bank's shares closed down 1.9 percent. ANZ fell 1.1 percent, Westpac and National Australia were little changed at the market close.
In the letter to Treasurer Scott Morrison, the banks' chief executive officers and chairmen said that political uncertainty was "hurting confidence in our financial services system, including in offshore markets, and has diminished trust and respect for our sector and people."
"It also risks undermining the critical perception that our banks are unquestionably strong," the letter said, and urged the government to "act to ensure a properly constituted inquiry into the financial services sector is established to put an end to the uncertainty and restore trust, respect and confidence."
The letter gave Turnbull political cover to reverse his policy on the royal commission and avert a defeat on the floor of the house that could have further undermined his authority.
'Face-Saving Exercise'
"This is not a win for Turnbull -- at best it's a face-saving exercise," said Haydon Manning, a political analyst at Flinders University in Adelaide. "He obviously realized that a public back-flip today would be less embarrassing than the potential sight next week of members of his own government voting against his policy position in parliament."
Australia's four biggest banks, responsible for 80 percent of the nation's loans, have been hit by allegations they gave poor financial advice, failed to honor insurance claims, mistreated small business owners and that some attempted to manipulate benchmark interest rates.
Commonwealth Bank of Australia, the nation's biggest lender, is currently defending a suit from the country's financial crime agency that it repeatedly breached anti-money laundering laws. These claims have spawned a class action lawsuit and resulted in two additional regulatory probes into conduct and disclosure practices.
Amid public pressure to tackle misconduct, the government this year hit the banks with a A$6.2 billion levy, gave the regulator more control over executive conduct and required top bankers to defer bonuses. The measures failed to damp repeated calls by opposition lawmakers and some members of the Nationals, the junior coalition partner, for an inquiry -- a move also backed by 64 percent of Australians, according to a Guardian Essential poll released Nov. 27.
Multiple Inquiries
The Australian Bankers' Association says the sector is already one of the most highly regulated in the world and since the financial crisis has co-operated with 37 separate reviews, investigations and inquiries.
The decision to hold a royal commission is another sign of Turnbull's diminished authority in parliament, where he no longer has a majority. Two government lawmakers were forced to quit the lower house after discovering they had dual-citizenship, in breach of the constitution.
Turnbull acknowledged the government was vulnerable to losing a parliamentary vote next week.
"A government's policy remains the same until it's changed," Turnbull said."The nature of the political environment has created a sense of inevitability about an inquiry."
— With assistance by Matthew Burgess
Before it's here, it's on the Bloomberg Terminal.
LEARN MORE