Australia Lawmaker Quits Labor Party Role Over China Remarks
By
Dastyari told to resign Senate role by Labor leader Shorten

Recording shows Dastyari backing China on territory disputes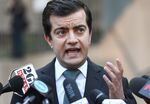 Australian Senator Sam Dastyari resigned from a senior position within the opposition Labor party after an audio recording revealed he deliberately contradicted its policy on China's role in the South China Sea.
The recording, made in June 2016 when Dastyari was standing next to a wealthy Chinese businessman with links to the Communist Party, shows the senator emphatically backing the Asian country's position in the region, saying: "The Chinese integrity of its borders is a matter for China."
Dastyari, 34, had previously downplayed the comments, saying he had responded to a tricky question with a "garbled" response. The audio, released to media this week, contradicted that by showing that he said Australia should respect "several thousand years" of Chinese history in the region.
"When a public official makes a statement that contradicts events, there are consequences," Dastyari told parliament on Thursday when announcing his resignation as party deputy whip. He will remain in parliament.
"I told Senator Dastyari that his mischaracterisation of how he came to make comments contradicting Labor policy made his position untenable," Labor leader Bill Shorten said in a statement on Thursday. "I also told him that while I accept his word that he never had, nor disclosed, any classified information, his handling of these matters showed a lack of judgment."
China Ties
Dastyari's remarks put him at odds with the policy of both the Labor party and the ruling coalition that China should respect international law regarding its expansion in the South China Sea. The Permanent Court of Arbitration in The Hague ruled in July 2016 that China's efforts to assert control over the region exceeded the law.
China's rising soft-power influence has become an increasing concern in the Asia-Pacific, and Australia and its main ally the U.S. have criticized the nation for land reclamation and other moves to assert control over areas also claimed in part by Southeast Asian countries. China prefers to settle the disputes through one-on-one talks.
Dastyari had been rebuilding his political reputation after he quit the opposition's frontbench in September 2016 when it was revealed a company with links to the Chinese government paid a A$1,670 ($1,265) travel bill for him. On Wednesday, Fairfax reported Dastyari had met with the Chinese businessman and warned him that his phones were tapped.
Before it's here, it's on the Bloomberg Terminal.
LEARN MORE