Trump Goes to Missouri to Sell Tax Plan Ahead of Senate Vote
By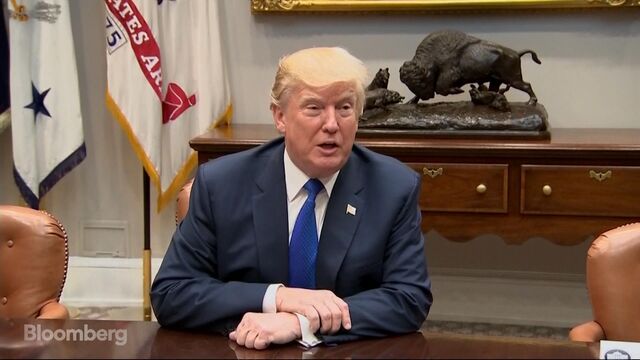 President Donald Trump will look to rally support for his push to overhaul the tax code with a trip to the St. Louis suburbs on Wednesday, teeing up an anticipated vote on the Senate Republican bill later this week.
The trip ahead of the pivotal vote will serve as something of a bookend for the president, who launched his tax-cut campaign with a trip to Missouri in August. Treasury Secretary Steven Mnuchin and several members of Congress will join Trump for the trip, a White House official said.
The floor vote, which could come as early as Thursday, would clear a major hurdle for Trump's White House as it seeks its first major legislative victory. If the Senate passes the legislation, negotiators from the upper chamber would begin work with the House on a compromise bill that Republicans hope to finalize and deliver to Trump's desk before the end of the year.
Democrats appear unified in opposition to the legislation, even though Trump has repeatedly targeted vulnerable lawmakers as he's traveled to sell the bill. They argue the tax changes disproportionately benefit the wealthy and threaten to increase deficits and shake health care markets.
In his last trip to Missouri, Trump encouraged voters to dispense with Senator Claire McCaskill, the Democratic incumbent seeking re-election next year, if she opposed the bill.
"Your senator Claire McCaskill must do this for you, and if she doesn't do it for you, you must vote her out of office," Trump said at the time. The president plans to mention McCaskill again in his remarks Wednesday, the official said.
McCaskill made clear Tuesday that she opposes the tax-cut bill, and said she thinks her constituents will be better off for it. She said failure of the bill should prod Republicans to revisit a tax plan that could have bipartisan backing.
Trump and Republicans have ignored repeated attempts by Democrats to provide ideas on pragmatic ways to alter the bill that would build broader appeal in the Senate, she said.
"My message to Missourians is that we can do this in a way that really will help most of you, but not the way that the Senate is proposing to change the tax code," she told reporters at the Capitol.
Before it's here, it's on the Bloomberg Terminal.
LEARN MORE