OPEC Panel Backs Extension, Russia Arrives: OPEC Reality Check
By
Joint Technical Committee recommends extending to end of 2018

Russian Energy Minister Alexander Novak arrives in Vienna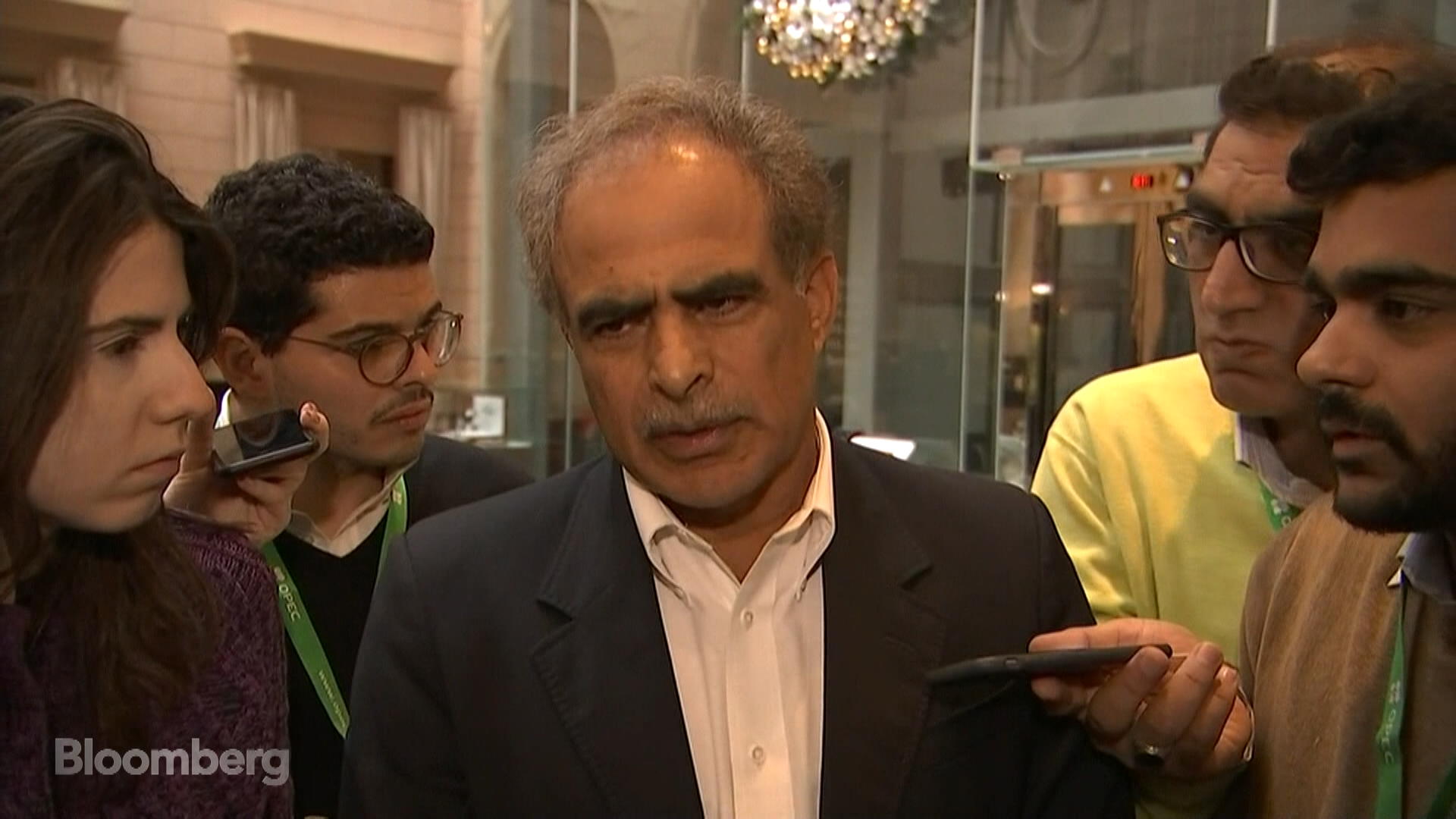 OPEC and Russia are said to have agreed they should extend oil-supply cuts deeper into next year, but Moscow wants clarity on an exit strategy before giving formal consent.
Almost a year in, and the deal is working. Oil in New York is trading near a two-year high after the curbs helped drain a global glut that has weighed on prices for three years. 
The Organization of Petroleum Exporting Countries and its chief ally, Russia, are said to have crafted the outline of a deal to continue the curbs for nine months beyond the current end-March expiry. The sub-ministerial Joint Technical Committee of OPEC and its partners also recommends extending until the end of next year. But as ministers meet in Vienna to consider the future of their historic agreement, Moscow's apparent hesitancy remains the major stumbling block.
The market has already factored in a renewal, and anything short of an extension through 2018 "would likely be notably bearish," RBC Capital Markets has said.
Following are the latest positions of most OPEC members, plus Russia and Kazakhstan. The respective shares of supply are based on October levels. Estimates for the price each member needs to balance its 2017 budget are from the International Monetary Fund unless stated otherwise. The compliance rate with each nation's pledged production cut is the average through October, as compiled by Bloomberg.
Algeria
Price needed: $63.80
Compliance: 76%
Share of OPEC production: 3.1%
Political instability wrought by the oil-price collapse has been exacerbated by a decline in production to the lowest in more than a decade. The country is still counting on the supply pact to succeed and an extension is "desirable and probable," state oil company chief Abdelmoumen Ould Kaddour told the Wall Street Journal last month.
Angola
Price needed: $83 (RBC)
Compliance: 133%
Share of OPEC production: 5.3%
Angola has been one of the most dedicated participants, reducing more than it pledged in each month since the curbs took effect. Prior to her ouster this month, Isabel Dos Santos, the chairwoman of the state oil company, said the country would favor an extension if everyone else is on board.
Ecuador
Price needed: $78 (RBC)
Compliance: 63%
Share of OPEC production: 1.6%
OPEC's recalcitrant minnow set a dangerous example in July when it publicly announced it would boost production -- effectively quitting the deal. Later it pleaded for an exemption instead, arguing it needed money to plug a budget deficit. Recently, Ecuador changed its tune, promising to meet its target and support whatever the majority decides at the meeting.
Iran
Price needed: $54.70
Compliance: not required to cut
Share of OPEC production: 11.6%
Since international sanctions were eased in January 2016, production has risen close to the 3.797 million-barrel-a-day cap Iran agreed on with OPEC as part of the accord. U.S. President Donald Trump later threatened to ditch the nuclear agreement that lifted the trade restrictions. Iran said last month that Trump's "chest-beating" won't disrupt its output plans. It supports an extension of the supply deal until the end of next year.
Iraq
Price needed: $54.10
Compliance: 54%
Share of OPEC production: 13.4%
Iraq consistently exceeded its quota until clashes with the semi-autonomous Kurdish region disrupted oil fields in the disputed Kirkuk province last month. Oil Minister Jabbar Al-Luaibi said Tuesday OPEC is in general agreement on an extension but is yet to agree on the duration. He has said he backs any OPEC decision that supports prices, and is committed to meeting the quota, but Iraq's recent production decline may mask the long-term ambition of a country that, from the outset, resisted the imposition of curbs.
Kazakhstan
Price needed: $60.60
Compliance: -99%
The former Soviet republic actually increased production since the agreement with OPEC and will seek an exemption for output at its new Kashagan field if the cuts are extended. Production from the giant project is likely to rise to 250,000 barrels a day by year-end, Energy Minister Kanat Bozumbayev told Interfax this month, trimming an earlier forecast.
Kuwait
Price needed: $46.50
Compliance: 99%
Share of OPEC production: 8.4%
Kuwait, a member of the committee that oversees the accord, says the duration of any renewal will be discussed Wednesday. OPEC's-fifth largest producer backs an extension into next year, Oil Minister Issam Almarzooq said in Vienna Tuesday.
Libya
Price needed: $102.00
Compliance: not required to cut
Share of OPEC production: 3%
The OPEC nation with Africa's largest crude reserves has been exempted from the curbs as it struggles to restore output crippled by internal conflict. Libya is now pumping almost 1 million barrels a day, but it's "very difficult" to say when it could increase to 1.25 million barrels, National Oil Corp. Chairman Mustafa Sanalla said last month. That's a target Libya gave to fellow producers at a meeting in July.
Nigeria
Price needed: $127 (RBC)
Compliance: not required to cut
Share of OPEC production: 5.3%
Nigeria was exempted from the cuts as it restores production lost to rebel attacks. Together with Libya, its rising output has undermined other members' efforts. The country promised to join the curbs after six months of calm, a prospect made more remote after Niger Delta militants ended a cease-fire this month. The country supports an extension, Minister of State for Petroleum Emmanuel Ibe Kachikwu said last month. 

Qatar
Price needed: $46.80
Compliance: 130%
Share of OPEC production: 1.8%
So far, a diplomatic rift between Qatar and OPEC members Saudi Arabia and the United Arab Emirates doesn't seem to have shaken its support for the production deal. Qatar has the second-highest rate of compliance in the bloc after Saudi Arabia, and has said it will support an extension if other producers agree.
Russia
Price needed: $49.90 (Figure used to calculate country's 2017 budget)
Compliance: 81%
Russia is said to have worked out the outline for a nine-month renewal with OPEC, but the world's biggest energy exporter still has reservations. It worries that supporting prices above $60 a barrel will only stimulate U.S. shale production. And while in previous rounds of OPEC output cuts an exit strategy was traditionally an afterthought, Russia wants an agreement on when and how to end the curbs. Still, an accord is likely, according to Bloomberg oil strategist Julian Lee. Producers risk falling prices if cracks appear in their resolve, and President Vladimir Putin won't want to risk the political gains he's made in the Middle East since joining the pact.
Saudi Arabia
Price needed: $73.10
Compliance: 122%
Share of OPEC production: 30.7%
OPEC's strong compliance has often been attributable to the Saudis cutting more than they promised, making up for laggards like Iraq and the U.A.E. While bearing the heaviest burden, the Kingdom has still gained from the deal. Oil revenue grew 33 percent in the first nine months of the year, allowing the government to soothe potential discontent by reinstating the perks and bonuses to citizens that it controversially withdrew last year. Energy Minister Khalid Al-Falih told Bloomberg Television this month the group should announce an extension in Vienna because surplus inventories won't be eliminated by March.
United Arab Emirates
Price needed: $68
Compliance: 67%
Share of OPEC production: 8.9%
The Saudi ally has exceeded its quota in each month of the deal, but it promised in July to lift its game after Saudi Arabia rebuked OPEC members for failing to meet their commitments. Kuwait sees the "logic to extend the cuts until the end of 2018 because we still have to reduce some of the crude oil inventories," Energy Minister Suhail Al Mazrouei said Wednesday.
Venezuela
Price needed: $216 (RBC)
Share of OPEC production: 6%
Compliance: 122%
Venezuela will be represented at the Vienna summit by new Oil Minister Manuel Quevedo, a military leader who was named to the post at the weekend, replacing Eulogio Del Pino. Perhaps more than any other OPEC nation, Venezuela needs the OPEC deal to work. The Latin American country gets almost all its export revenue from oil, and the price collapse left its economy reeling and its industry in decline. Production in the country, which has larger reserves than Saudi Arabia, is set to reach the lowest in almost three decades -- just when it needs petrodollars most to service its debt. Quevedo will also head the national oil company, whose former president, Nelson Martinez, said he supported the proposal to extend cuts for nine more months.
— With assistance by Angelina Rascouet
Before it's here, it's on the Bloomberg Terminal.
LEARN MORE