The Biggest Nordic Bank Saw Its Swedish Mortgage Book Shrink
By and
Nordea saw net outflows of almost 1 billion kronor in October

Lender says it's 'somewhat more cautious' in mortgage market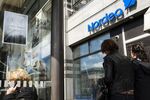 For the first time in at least 15 years, the biggest Nordic bank has seen its Swedish mortgage book shrink.
The latest figures show Nordea Bank AB is losing clients in the biggest Scandinavian economy less than three months after saying it plans to move its headquarters to Helsinki from Stockholm for regulatory reasons.
Nordea's Swedish mortgage book shrank to 444.7 billion kronor ($53 billion) in October, from 445.6 billion kronor in September, the first monthly decline in Statistics Sweden data stretching back to early 2002, according to Bloomberg calculations. October's net outflows erased all the gains Nordea had seen in July, August and September. Its overall market share fell to 14.4 percent in October, from 14.6 percent in September and 15.0 percent in January.

"It is correct that the October inflow was in the negative, month-on-month," Nordea spokeswoman Janina Pfalzer said in an emailed response to questions. "However, we still have a positive inflow year-on-year."
Nordea has "chosen to be somewhat more cautious in the mortgage lending market during the year," Pfalzer said. The bank has "not actively tried to gain market share."

The numbers follow earlier indications Nordea was suffering client defections in Sweden, with online mortgage brokers reporting they'd been contacted by angry customers eager to switch banks. At the same time, rivals like SBAB and Danske Bank A/S are providing fierce competition as Sweden's housing market cools down.
For more on Sweden's housing market turnaround, click here.

Nordea had a negative market share in new Swedish mortgage lending last month, equivalent to a loss of 5.8 percent. In September, its share was still positive, at 0.8 percent. Over the past five years, the bank's average share of new mortgage lending was 15 percent.

The market itself is still growing, with Swedish mortgage lending up 7.3 percent in October from a year earlier. From September, it rose 0.6 percent. Other banks gained market share, according to Nordea's own equity research department. SBAB took 23 percent of new lending volumes, Lansforsakringar grabbed 17 percent and Danske Bank got 9 percent, the analysis shows.
SEB AB also lost overall market share last month, while Swedbank AB and Svenska Handelsbanken AB managed to defend their back-book positions. Combined, Sweden's four biggest banks were behind less than 50 percent of new mortgage loans for a fourth consecutive month. By comparison, they sit on an overall market share of 76 percent, according to Nordea's research analysts.
Though it's still too early to say whether the losses will be lasting, the Nordea analysts said "recent turbulence in the housing market could well translate into gradual pressure on margins if this translates into lower overall market volume growth, especially when combined with the aggressive growth from challenger banks."
Before it's here, it's on the Bloomberg Terminal.
LEARN MORE