Macron Says He Aims to Leave France's Colonial Past in Africa Behind
By and
Macron puts education, culture, security on same level

French president to visit Ivory Coast, Ghana on same trip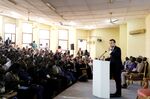 French President Emmanuel Macron used a speech to African students to put economic development, culture and education on the same level of importance as the terrorism and migration challenges that dominated his predecessors' relations with the continent.
In a speech of almost two hours to a boisterous crowd of students at Ouagadougou University in Burkina Faso, the 39-year-old president laid out his African policy, insisting that France's colonial past should no longer color relations given that both he and his audience had never experienced colonialism.
"I'm from a generation that doesn't tell Africa what to do: I have come to listen," Macron said, adding that Nelson Mandela's 1994 election in South Africa was a seminal moment of his youth. "France has a historical link to Africa, Africa is engraved in French history, culture and identity. There were faults and crimes, there were happy moments, but our responsibility is to not be trapped in the past."
Macron did touch on security and migration issues in his speech, but mostly offered partnerships in the areas of education, renewable energies, startup companies, transportation and health. He said African art pieces in European collections should be returned to Africa, and called for closer cooperation between French and African cinema.
Close Ties
He promised that France's development aid will reach 0.55 percent of economic output by the end of his first five-year term, up from about 0.4 now, and said it would be better spent. "Sometimes aid hasn't gone to what's needed, and instead has served just to please governments, French and African," he said to cheers from the students.
Macron was born in 1977. Most French colonies in Africa obtained independence from 1960, though successive French governments kept close ties, often intervening militarily to keep friendly regimes in power.
Past French governments have sought to wind down France's ties to its former colonies while aiming to develop closer relations with other African countries. In his speech, Macron struck a more amicable tone than ex-President Nicolas Sarkozy, who said during a visit to Senegal in 2007 that "the African man has not fully entered history."  
Sarkozy's successor, Francois Hollande, promised to treat African nations as equals, but his African policy became dominated by security concerns after he ordered French troops to Mali to prevent the country falling to Islamist militants in 2013.
France still has about 4,000 mobile troops in West Africa's Sahel region to hunt down militants. A few hours before Macron's arrival in Burkina Faso Monday evening, a grenade thrown at a French military vehicle in Ouagadougou missed its target, injuring three civilians.
Popular Uprising
Macron said Tuesday that he'll return to the United Nations to seek funding for a five-nation African force that's meant to fight militants across the Sahel. The U.S. rejected a French request for UN funding over the summer, though the U.S. has provided direct support.
Macron's three-country swing through Africa is his second trip to Africa as president, after a quick visit to French troops in Mali earlier this year. Burkina Faso was chosen because of a 2014 popular uprising that ousted ruler Blaise Compaore and led to democratic elections.
Macron is due to attend a European Union-Africa summit in Ivory Coast's commercial capital, Abidjan, on Wednesday, before visiting businesses and youth groups in neighboring Ghana on Thursday. "The barriers between French, English and Portuguese-speaking Africa are artificial," Macron said. "Africa is a central, global, unavoidable continent where all the challenges of the world are concentrated."
Macron's reputation in Africa took a hit at a G20 summit in Hamburg in early July, when he responded to a reporter's question about aid by saying Africa has "civilizational" issues, with many of its problems resulting from high birth rates.
Students laughed Tuesday when Macron mentioned demographics as a challenge facing Africa. "To not talk about it would be irresponsible," he said, noting that 70 percent of the continent's population is under 30 years of age. "It's a huge opportunity, and I wouldn't be here if it wasn't, but it's also a huge responsibility. We need this debate."
— With assistance by Helene Fouquet
Before it's here, it's on the Bloomberg Terminal.
LEARN MORE