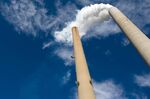 The Trump administration is holding its one public hearing on rolling back President Barack Obama's regulations limiting carbon emissions from power plants -- and it will be in West Virginia.
While the Environmental Protection Agency leadership under Obama steered clear of the coal-producing state, the agency will hold a public hearing on dismantling Obama's climate rule in Charleston, West Virginia on Tuesday and Wednesday. That will give coal miners and executives easy access to weigh in on the plan to repeal the Clean Power Plan, which would have forced utilities to burn less coal. The plan aroused particular resistance in coal-producing states such as West Virginia.
Under President Donald Trump, the EPA has made clear that it wants to help coal miners. On Oct. 10, EPA Administrator Scott Pruitt traveled to another coal bastion -- Hazard, Kentucky -- to announce the regulation would be repealed.
"The war on coal is over," Pruitt said then.
Opponents of the plan loudly faulted Pruitt's predecessor, Gina McCarthy, for not holding a hearing in West Virginia while she was developing the Clean Power Plan. In 2015, West Virginia Republican Senator Shelley Moore Capito said she was "appalled" by McCarthy's skipping her state. This week's hearings mark a sort of rebuke to that decision.
Among the issues the agency must decide is whether and how it will replace the Obama-era rule. One industry group, Electric Reliability Coordinating Council, is set to argue Tuesday that the benefits of the rule didn't justify the costs. But the group also will ask for a milder replacement plan.
"Federal guidance of sufficient flexibility, and limited to actions within the fence line, can provide regulatory certainty, diminish frivolous litigation, and can aide in planning," Scott Segal, the group's director, will say, according to a written copy of his remarks.
Before it's here, it's on the Bloomberg Terminal.
LEARN MORE