Donor Backing Roy Moore Causes Headaches for Other Republicans
By
Democrats showing signs they plan to use guilt-by-association

Uihlein is among top 10 individual political donors in 2016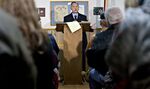 Contributions from an Illinois shipping magnate to a super political action committee backing embattled U.S. Senate candidate Roy Moore in Alabama are causing problems for other Republicans.
Richard Uihlein, one of the nation's top donors to conservative candidates and causes, gave $100,000 to the Proven Conservative PAC, which supports Moore, disclosures filed Monday show.
That money made Uihlein the group's top donor and triggered calls from Democrats that other Republicans who have taken Uihlein's money should return the funds because Moore has been accused of pursuing dates or sexual contact with teenage girls decades ago.
The GOP's Washington leadership has worried about just this sort of tainting of 2018 GOP candidates, which prompted them to withdraw support from Moore days after the allegations surfaced.
Moore faces Democrat Doug Jones in a Dec. 12 special election. If Jones were to win, Democrats would need to gain two more seats in 2018 to retake the Senate majority.
Target Rauner
The Proven Conservative PAC has raised $246,500 this year. Uihlein contributions to the group came before and after the Washington Post first reported on Nov. 10 about complaints against the Republican Senate nominee.
So far, Democrats have tried to use Uihlein and Moore to target Illinois Governor Bruce Rauner, one of the most vulnerable Republican governors facing re-election in 2018, as well as a Republican candidate for U.S. Senate in Wisconsin.
"Bruce Rauner must disavow the support of Richard Uihlein and return all donations received from him," the Democratic Governors Association said in a statement Tuesday. "The accusations of child predation against Roy Moore are abhorrent, and Rauner must disavow his relationship with anyone who supports Moore, including his mega-donor allies."
Bill Broydrick, a Uihlein representative in Washington, declined to comment.
Uihlein gave $2.6 million to Rauner's first campaign for governor in the 2014 election cycle, records filed with the Illinois State Board of Elections show.
Nicholson Supporter
Uihlein has also been a major donor to super PACs supporting the Republican Senate candidacy of businessman and Marine veteran Kevin Nicholson, who is seeking to challenge Democratic incumbent Tammy Baldwin in Wisconsin.
"The same out-of-state billionaire who's funneling money into alleged serial sexual predator Roy Moore's candidacy in Alabama is also pouring millions into buying Kevin Nicholson a U.S. Senate seat here in Wisconsin," Brad Bainum, a spokesman for the Wisconsin Democratic Party, said in a statement. "Wisconsinites should be concerned that Nicholson is in joint company with Roy Moore."
Nicholson also has the backing of Steve Bannon, President Donald Trump's former chief strategist, whose candidate recruitment and support for Moore has proven to be a headache for Republican congressional leaders.
Republicans, meanwhile, have called on candidates who have taken contributions from Democratic Senator Al Franken of Minnesota to return them because he's been accused of sexually inappropriate actions with women. Those dollar amounts, however, are much smaller than those from Uihlein.
Uihlein and his wife, Elizabeth, gave $23.5 million to conservative causes during the 2016 election cycle, according to the Center for Responsive Politics.
Family Business
The couple founded Uline Corp. after starting the business from their basement in 1980. The company, which is based in southern Wisconsin and has more than 5,500 employees throughout the U.S., distributes more than 30,000 packaging, shipping, industrial and janitorial products.
So far in 2017, Uihlein has given the maximum $5,400 contribution -- $2,700 for the primary, $2,700 for the general election -- to roughly 30 Republican lawmakers, including Senators Tom Cotton of Arkansas, Ted Cruz of Texas and Roger Wicker of Mississippi, Federal Election Commission records show.
He has also given $15,000 to Team Josh, a joint fundraising committee supporting the Senate campaign of Josh Mandel, the state treasurer, and $339,000 to the Republican National Committee, the annual limit for donations to a party committee.
Super PAC Supporter
The Illinois businessman is also a generous supporter of super PACs. He's given $1.5 million to Club for Growth Action, $250,000 to its affiliate CFG Action Ohio, and $500,000 to Senate Conservatives Action, a super PAC that spent $412,530 supporting Moore's candidacy in the Alabama primary, before the allegations surfaced against him.
The Rauner campaign didn't directly address the question of returning Uihlein's money, but did repudiate Moore. "The governor has said the accusations are serious and he should step aside," the campaign said in an emailed statement.
Uihlein initially was part of the anti-Trump effort during the 2016 primary campaign, but his wife became a Trump fundraiser and an economic policy adviser once it became clear he would win the nomination.
— With assistance by Bill Allison
Before it's here, it's on the Bloomberg Terminal.
LEARN MORE