Turkey to Be Removed From Draft EU Tax Havens Blacklist
By
Ankara offered more commitments on tax transparency on Nov. 24

Blacklist updated on Nov. 27 doesn't include Turkey anymore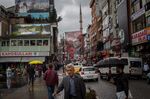 Turkey is on course to dodge a potential inclusion in the European Union's list of tax havens, after offering additional clarifications to the bloc in a letter sent on Friday.
Ankara's commitments are now "addressing all the issues identified," according to an EU working group document updated on Monday and seen by Bloomberg News. "On the basis of new information provided, experts have concluded that the preferential regime named 'regional headquarters regime' is not meeting" the criterion for the inclusion in the list of harmful tax regimes, according to the document discussed at the so-called Code of Conduct group.
On Nov. 21, the group, which is tasked with screening "non-cooperative jurisdictions for tax purposes," had concluded that Turkey's commitments to address transparency issues and abolish sweetheart tax regimes are "not sufficient." The blacklist is still subject to revisions and updates by EU government envoys, before the bloc's finance ministers approve it on Dec. 5.
While EU countries are split over whether financial sanctions should be used against uncooperative tax jurisdictions, inclusion in the blacklist could result in reputational damage to Turkey and raise pressure on EU companies to hold back investment. Several states, including France, support punitive measures, such as the exclusion from international funding, though no decision has been taken.
Serbia, which was also included on the blacklist in the previous draft document on Nov. 21, is now seen as compliant with the EU's demands for additional commitments. The latest draft of "non-cooperative jurisdictions" has 29 countries, including Armenia, Bahrain, Barbados, Jordan, Morocco, Mongolia, Panama, Qatar, Thailand, Tunisia, United Arab Emirates, and Vietnam.
— With assistance by Viktoria Dendrinou
Before it's here, it's on the Bloomberg Terminal.
LEARN MORE