Treasury Market's Overlords Tackle Key Question of Transparency
By and
Regulators gather with industry Tuesday at New York Fed

Primary focus is whether trading data will be made public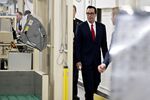 As Treasury Secretary Steven Mnuchin and other overseers of the $14.3 trillion U.S. government bond market gather Tuesday for a conference on the industry's evolution, one key question looms large: Are regulators prepared to make trading data public?
The event at the Federal Reserve Bank of New York comes four months after a financial industry watchdog began assembling the trading statistics, solely for regulators' use. Now Treasury market participants, who are among the attendees, are looking for any sign that officials support broader dissemination of the data, collected through a bond-price reporting system known as Trace.
While former Treasury Secretary Jack Lew's team backed public release of the information, such as the size, price and time of transactions, the move has stalled under Mnuchin. The debate is pitting big banks, who say public reporting would make their dealing business more difficult, against high-speed traders and hedge funds, who see greater transparency improving execution.
"The major focus is likely to be on whether or not there will be public release of Trace data for Treasuries," said Michael Cloherty, head of U.S. interest-rate strategy at RBC Capital Markets. "The debate about public release will be white-hot."
Mnuchin and New York Fed President William Dudley are set to speak at the conference, along with officials from the Commodity Futures Trading Commission and the U.S. Securities and Exchange Commission. Craig Phillips, counselor to the Treasury secretary, is scheduled to give an update on Trace data. The event will also feature panels including representatives of banks and investment firms.
2014 Trigger
Regulators are assembling at the New York Fed for the third straight year to discuss the structure of the world's biggest bond market, following an unusual bout of volatility in October 2014 that spurred a joint push by authorities for more transparency.
The 2014 episode underscored for officials that they needed more robust statistics for government-debt trading -- information that's existed for years in markets like corporate bonds and equities. In July, the Financial Industry Regulatory Authority, known as Finra, began collecting results of transactions by its members, through its Trace system.
The topic of public data reporting came up at last year's conference, before President Donald Trump's election victory and the changing of the guard at Treasury. Then-SEC Chair Mary Jo White said regulators need "full access" to the information, and that better public reporting was needed to make the market easier to understand for investors.
Data Loophole
The Finra data-collection loophole is another issue for discussion, because it allows some principal trading firms, or PTFs, to avoid sharing their transactions, given many aren't required to be registered with Finra and report their activity to Trace. That leaves a growing part of the bond-trading picture incomplete.
The role of PTFs has increased since the financial crisis. The firms, many of which use algorithms to execute high-frequency, computer-driven transactions, have stepped into the market-making void as some banks pulled back because post-crisis regulations discouraged their activity in Treasuries.
Jerome Powell, nominated by President Trump to replace Janet Yellen as Fed chair, said in October that the central bank wants to gather more data on Treasuries trading.
"We should be concerned about creating a level playing field," Powell said in prepared comments for an Oct. 5 gathering of the Treasury Market Practices Group.
Before it's here, it's on the Bloomberg Terminal.
LEARN MORE