Mexico's Carstens Urges Next President to Keep CPI Mandate
By and
Outgoing governor says focus on prices has provided stability

Next BIS chief says Bitcoin's surge should 'raise eyebrows'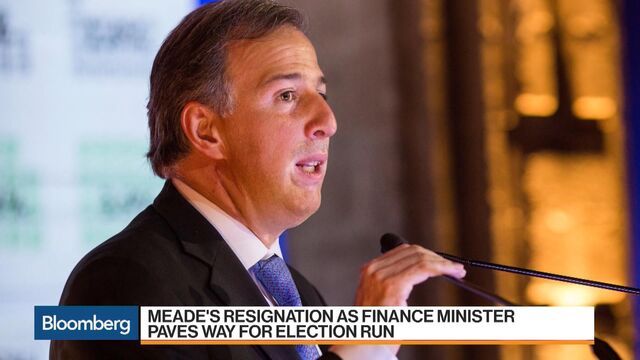 Outgoing Mexican central bank Governor Agustin Carstens warned Mexico's next president that it would be very difficult and counterproductive to try to change Banco de Mexico's exclusive inflation mandate.
Latin America's second-largest economy will elect a new president in July 2018. After more than three decades of free-market technocrats, Mexicans could pick a leader who has threatened to implement changes to Mexico's economic model, and could seek to give the central bank additional mandates such as employment or growth. Current front-runner and leftist firebrand Andres Manuel Lopez Obrador has recently acknowledged the importance of the central bank's autonomy in helping to tame inflation.
In an interview with Bloomberg, Carstens said he's confident that all of the presidential candidates will respect the central bank's independence.
"What has given space for solid autonomy is the fact that people want to have an institution within the state that its only mandate is to keep inflation low and stable," Carstens said. "To change that mandate socially and politically would be very difficult."
Carstens, who is scheduled to leave the central bank this week to lead the Bank for International Settlements after extending his stay by five months earlier this year, said he doesn't know who President Enrique Pena Nieto will name or nominate to replace him. One possible candidate was removed on Monday when Jose Antonio Meade resigned as finance minister and announced his intention to seek the ruling Institutional Revolutionary Party's nomination for president.
Meade is a "tremendously skilled individual" who was an "exceptional colleague," Carstens said.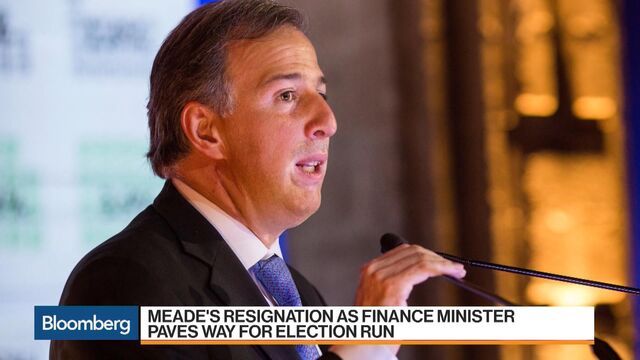 One of the bank's four deputy governors, Alejandro Diaz de Leon, is thought by economists to be a leading contender to replace Carstens as governor. If Pena Nieto chooses him, he wouldn't need Senate approval, although the chamber would vote on the president's nomination for a new deputy to complete the five-member board. If no replacement is chosen for Carstens in the next days, Roberto del Cueto, a lawyer by training and the longest-serving deputy, would become the interim head of the board.
Under Carstens, inflation has averaged 3.8 percent, about half the level under his predecessor, Guillermo Ortiz. When inflation pressures emerged in the past two years, policy makers led by Carstens hiked the rate by 4 percentage points through June, easily the most among any major rate-setting bank worldwide.
While inflation is now running at more than double the central bank's 3 percent target, the board forecasts the annual rate to tumble next year on more favorable comparisons with a gasoline price hike at the start of 2017.
Bitcoins' Rise
Carstens, who served as finance minister before taking over at Banco de Mexico in 2010, said that Mexico's next two or three presidential administrations will face a challenge to increase the nation's tax revenue in light of the need for spending on social needs like health, education and security.
In his new job, the 59-year-old University of Chicago economics doctorate will focus on facilitating communication between central banks, as well as the monitoring and study of cryptocurrencies. Carstens said Bitcoin's rapid rally deserves close scrutiny, given that it doesn't serve as legal tender and lacks the backing of any state.
"Anything that grows in price as fast as Bitcoin has done it, without having a real clear understanding of what is behind it, should at least raise some eyebrows," he said.
Before it's here, it's on the Bloomberg Terminal.
LEARN MORE