These Asian Companies Are Gaining From the Bitcoin Boom
By
Bitcoin boom has boosted makers of chips and graphics cards

TSMC, Global Unichip, PC Partner, Gigabyte among beneficiaries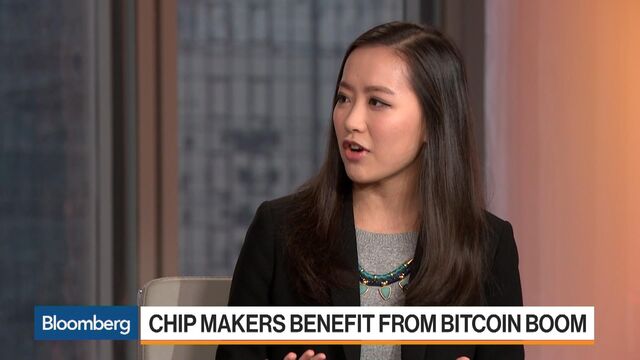 There's more than one way for investors to ride the bitcoin wave.
With the cryptocurrency's 936 percent rally this year increasing demand for the vast computing power used to verify bitcoin transactions, Asian technology stocks are emerging as major beneficiaries.
Taiwan Semiconductor Manufacturing Co., specialty chip designers and graphics card makers are boosting sales to the so-called miners who are rewarded for maintaining bitcoin's digital ledger. And demand for the best mining gear should only grow as more competitors enter the fray and the calculations required to validate transactions get tougher.
"There's an arms race," said Mark Li, a semiconductor analyst at Sanford C. Bernstein & Co. in Hong Kong. "The technology used is pretty intensive and you need very speedy chips to be able to mine the coin in the system."
Here are some Asian stocks that are gaining from the cryptocurrency boom:
Semiconductor manufacturing
It all starts here. TSMC, which makes the chips in your iPhone, is still the dominant player in semiconductor production. While crypto-related sales of up to $400 million were a mere 5 percent of the Taiwanese juggernaut's third-quarter total, the new demand is promising at a time when the market for smartphones and computers is cooling. Bitmain Technologies Ltd., the Chinese owner of the world's largest mining pools, has been one of the top users of TSMC's advanced 16-nanometer capacity, according to a report by Bernstein's Li.
Companies involved in the packaging of chips include Taiwan's Advanced Semiconductor Engineering Inc. and Siliconware Precision Industries Co., Li said.
Japanese producers of semiconductor manufacturing equipment, such as Ulvac Inc. and Advantest Corp., may also gain from bitcoin's rally, Tetsuya Wadaki, an analyst at Nomura Holdings Inc., wrote in a report.

ASIC design service
Mining companies such as Bitmain make and design their own application-specific integrated circuits, or chips that are designed just for bitcoin mining. They outsource part of the process to companies such as Taiwan's Global Unichip Corp. and Alchip Technologies Ltd., according to Bernstein. Both stocks have soared more than 170 percent this year.
Cryptocurrency mining
Only a few listed companies are in the relatively new mining business, but more are jumping on the bandwagon. Japan's GMO Internet Inc. has announced it will begin mining operations in 2018 using seven-nanometer chips. Xunlei Ltd., a Chinese provider of online media services, has rallied 385 percent since introducing its "Wanke coin mining" project in mid-October.
Graphics cards

As bitcoin miners switch to more competitive ASICs, graphics cards are now mostly used for mining other tokens, such as the world's second-most valuable digital currency, ethereum, which is designed to be incompatible with ASICs. Ethereum's 6,145 percent surge this year has been a windfall for graphics card makers, whose products for gaming are suddenly finding a new market in miners. For instance, these clients make up 40 percent of video graphics card demand for PC Partner Group Ltd., according to a July report by KGI Securities Co. PC Partner's shares have jumped 56 percent in Hong Kong this year.
Before it's here, it's on the Bloomberg Terminal.
LEARN MORE