A 'Completely Flat' Yield Curve and Record-Low Yields Lie Ahead in 2018
By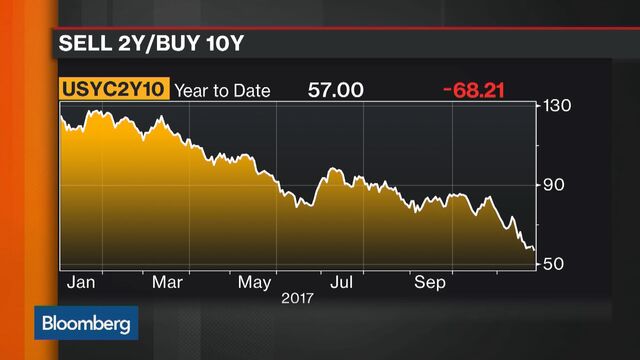 In 2018, the Treasury curve will resemble another expanse in the U.S. where workers toil for yield: the farmlands of the Great Plains.
Morgan Stanley is instructing investors to prepare for a "completely flat" U.S. yield curve in the third quarter, a more extreme take on T. Rowe Price Group's assessment that the spread between two and 10-year Treasuries will zero out next year.
The 30-year yield will hit a record low of 2 percent in the fourth quarter, according to Morgan Stanley, which is below the lowest levels seen in the global financial crisis, "the euro-zone crisis or the height of enthusiasm for 'secular stagnation,'" writes chief cross-asset strategist Andrew Sheets.
Morgan Stanley recommends betting on the continued shrinkage of the spread between two- and 30-year Treasury yields, targeting the gap to narrow to 10 basis points as one of its top trades.

Global head of interest rate strategy Matthew Hornbach believes a continued expansion of central bank balance sheets worldwide will buoy demand for long-term debt as the Federal Reserve lifts interest rates once a quarter, fostering a flatter yield curve. The U.S. central bank's plans to slowly pare its asset hoard won't roil bond markets as it's already been priced in, the strategist said.
"If growth is better than expected, we think short-end rates rise more," he writes. "If growth weakens more, or sooner, we expect strong demand for U.S. duration."

It's far from Hornbach's first big call for longer-term debt. In the third quarter of 2016, he predicted the 10-year yield would hit 1 percent in the first quarter of 2017. Ten-year yields never traded within 130 basis points of that level during the first three months of this year, as Donald Trump's surprise victory in the presidential election spurred speculation that expansive fiscal policy would stoke growth and inflation.
Hornbach's new forecast, if realized, may roil markets. A flat-to-inverted yield curve is considered a portent of a U.S. recession, and could spark waves of fear for investors across all asset classes. But such worries are ill-founded, Hornbach notes, as the S&P 500 Index peaked well after the previous two instances in which the yield curve completely flattened.
Looking at the different factors that go into Treasury yields -- implied policy rates, inflation compensation, and the term premium -- all roads lead to flattening, Morgan Stanley reckons.
The term premium -- the extra compensation investors demand for taking on longer-dated debt -- usually compresses as tightening cycles progress, an acknowledgment that the withdrawal of monetary stimulus is designed to smooth the business cycle and reduce tail-risk outcomes. But even if the curve doesn't flatten for that reason, further rate hikes may start to cause traders to deduce that Federal Reserve isn't on track to tighten much more and may actually ease policy going forward.
"Whether we look at the curve via term premium or via rate expectations, we come to the same conclusion: the yield curve will continue to flatten," said Hornbach.
Quotes from this Article
Before it's here, it's on the Bloomberg Terminal.
LEARN MORE