Trump Sticks With Moore as Republican Senators Want Him Gone
By and
President tweets criticism of Democratic challenger in Alabama

Portman, Scott and Thune all say Moore should step aside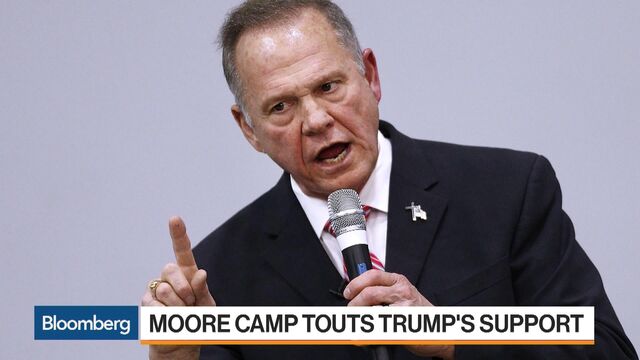 President Donald Trump doubled down on his call for Alabama voters to defeat Democrat Doug Jones, even as Republican senators want Roy Moore, their party's nominee in the state's U.S. Senate race, to drop out amid allegations of sexual misconduct.
The president avoided endorsing Moore by name in two fiery Twitter postings on Sunday before a final Thanksgiving holiday morning at one of his golf courses in South Florida. Trump even made a point to say he'd endorsed Moore's rival, Luther Strange, in the Republican primary in September, but conceded that "it wasn't enough" to position Strange as the nominee for the December special election.
Still, Trump didn't join fresh suggestions to abandon Moore, made by Republican Senators Rob Portman of Ohio, Tim Scott of South Carolina and John Thune of South Dakota in separate Sunday talk show appearances. Moore has been accused by multiple women of sexual misconduct when they were teenagers decades ago.
"Can't let Schumer/Pelosi win this race," the president tweeted to his 43.4 million followers in one posting, a reference to Democrats Chuck Schumer, the Senate minority leader, and Nancy Pelosi, the House minority leader.
"The last thing we need in Alabama and the U.S. Senate is a Schumer/Pelosi puppet who is WEAK on Crime, WEAK on the Border, Bad for our Military and our great Vets, Bad for our 2nd Amendment, AND WANTS TO RAISES TAXES TO THE SKY," Trump tweeted in another post.
'A Disaster!'
"Jones would be a disaster!" Trump said of the 63-year-old former federal prosecutor.
Asked last week whether he believed Moore's accusers, Trump said the Alabama Republican "totally denies it" and that "you have to listen to him also."
Although the president has essentially backed Moore in the Dec. 12 special election, the allegations against the former Alabama Chief Justice are "very strong and credible" and his denials "fairly weak," Scott said on ABC's "This Week" program.
"It is pretty clear to me that the best thing that Roy Moore could do for the country is to move on," Scott said, while also declining to say whether Trump should back Moore. "I want to be on the side of right when the history writes this story."
Write-In Candidate
Portman said on NBC's "Meet the Press" it would be "best" if Moore stepped aside in the Alabama race to replace Jeff Sessions, who resigned from the Senate to become attorney general, and that it wan't too late for a write-in candidate.
Thune said he agrees with Trump that Jones, a former federal prosecutor, would support a Democratic agenda if he wins. But if Moore prevails, he would be a distraction for Republicans, Thune said on "Fox News Sunday."
"If Roy Moore wins and he comes into the Senate in January, there's going to immediately be an ethics investigation, which is going to be a cloud that he'll be operating in," Thune said on "Fox News Sunday." "It's going to be a distraction for us and for our agenda."
Toss a Lifeline
A fourth Republican, Senator Lindsey Graham of South Carolina, said Trump is "trying to throw a lifeline to Roy Moore" with his tweets.
But Graham also said he doesn't "know what winning looks like" with Moore because his victory would bring baggage and continued questions about being expelled -- while a Jones win gives Democrats a seat at a time Republicans "need all the votes we can get."
"What I would tell President Trump: If you think winning with Roy Moore is going to be easy for the Republican Party, you're mistaken," Graham said on CNN's "State of the Union."
The Republican National Committee has withdrawn from a joint fundraising agreement benefiting Moore, according to a filing with the Federal Election Commission, following a similar action by the National Republican Senatorial Committee. But the Alabama Republican Party organization is sticking with him.
Trump has no plans at this time to campaign for Moore either in person in Alabama or in any ads or calls, according to a person familiar with the president's plans. The person also said that Trump and his team don't see evidence that Moore would need that sort of involvement in order to prevail in the race.
A RealClearPolitics average of six polls taken between Nov. 9 and Nov. 20 in heavily Republican Alabama has Democrat Jones holding a scant lead of less than a percentage point.
— With assistance by Justin Sink, Ben Brody, and Alan Bjerga
Before it's here, it's on the Bloomberg Terminal.
LEARN MORE