Meredith to Buy Time Inc. With Koch Backing
By
Time says CEO Battista expected to leave after transition

Koch brothers are investing $650 million in acquisition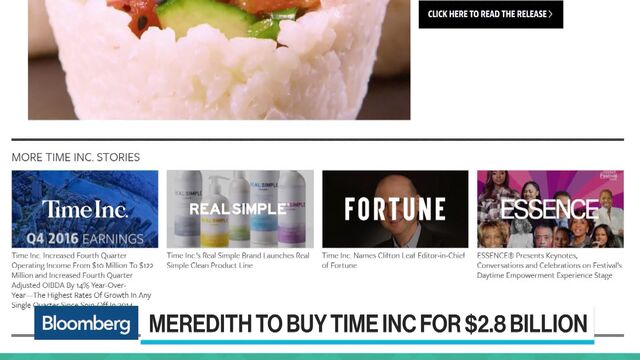 Meredith Corp. agreed to acquire Time Inc. for about $1.8 billion in cash, swallowing the once-mighty home of Fortune and Sports Illustrated after the internet age wreaked havoc on even the most prestigious magazine titles.
The $18.50-a-share offer will give Meredith, publisher of Better Homes & Gardens, a larger audience to compete with Facebook and Google in attracting advertisers. The acquisition also provides the billionaire Koch brothers, who agreed to support Meredith's offer with an equity injection of $650 million, a stake in well-known media brands like Time magazine. Meredith shares surged as much as 16 percent.

Koch Equity Development, the brothers' investment arm, won't have a seat on Meredith's board or have influence on its editorial or managerial operations, according to a statement from the acquirer.
The Kochs' involvement may raise new questions about political influence on the news media, especially an enduring journalistic outlet like Time magazine, founded in 1923 and originally run by Henry Luce. The Koch brothers have spent decades building a network of wealthy political donors who pledge money to conservative causes and their advocacy groups.
Read more about print media's enduring appeal to billionaires here
Meredith has fared better than Time Inc. in the internet era in part because it also owns a collection of local television stations, which haven't been hit as hard by the rise of the web. The publisher largely focuses on women, with other titles like Shape and Parents magazines.
The company said it sees the Time Inc. deal generating $400 million to $500 million in cost savings. The largest chunk will come from eliminating duplication in office functions, Chief Financial Officer Joseph Ceryanec said on a conference call Monday.
Meredith rose 11 percent to $67.43 at 10:57 a.m. in New York after climbing to as high as $70.85. Shares of Time rose 9.2 percent to $18.45.
If savings from the deal go "straight to profits" Meredith shares could be worth $78, Eric Katz, an analyst at Well Fargo & Co., wrote in a note. He said expenses could be cut by moving functions from Time Inc.'s New York headquarters to Des Moines, Iowa, where Meredith is based.
Time Chief Executive Officer Rich Battista will work with Meredith during the transition and is expected to leave when the deal closes, his company said in a statement.
Like its competitors, Time Inc. has struggled to reinvent itself as print advertising dries up. The magazine owner has spent months restructuring its business, trying to sell some magazines, replacing senior management and hoping to persuade advertisers to pour money into its titles.

"Meredith is doubling down on the magazine business when most investors are keeping their distance," Bloomberg Intelligence analyst Paul Sweeney said in an email. "It remains to be seen whether magazine companies can make the transition to digital."
This was at least the third time Meredith has attempted to acquire Time since 2013. It was one of a handful of bidders that made competing offers for Time earlier this year, but the sale was scrapped.
Once part of Time Warner Inc., Time Inc. was spun out as a separate unit in 2014 after talks to merge the division with Meredith collapsed.
In May of this year, Time Inc. announced plans to sell some magazines or other properties as it tried to push ahead with a digital strategy. Now it joins other longtime publishers that are selling altogether. Rodale Inc. agreed to part ways with Men's Health and other titles last month, and Rolling Stone is currently on the block.
Time Inc.'s financial advisers for the transaction are Morgan Stanley and Bank of America Corp. BDT & Co. and Moelis & Co. are advising Meredith.
The transaction values the company at $2.8 billion including net debt.
Quotes from this Article
Before it's here, it's on the Bloomberg Terminal.
LEARN MORE