Chechen Leader to Stay Despite Saying He'll Go, Kremlin Says
By and
Kadyrov remains in post, will do as Putin directs, Peskov says

Chechen head won a second five-year term in September 2016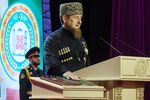 Chechnya's leader Ramzan Kadyrov, who won a new five-year term last year, said it's time for him to step aside and let the Kremlin choose a successor. The Kremlin said Kadyrov is staying in his post.
"There was a time when people like me were needed -- to fight, to bring order," Kadyrov, 41, said in an interview broadcast Sunday on state-run Rossiya 1 TV, adding that it would be up to the Kremlin to decide on his successor. "Now we have order."
Kadyrov has said repeatedly that he'll work as President Vladimir Putin directs and "he continues to be the head of the republic," Kremlin spokesman Dmitry Peskov told reporters on a conference call Monday.
Putin last year asked Kadyrov to run for re-election, a month after the Chechen leader said on state TV that he wanted to quit. He picked the former Chechen separatist in 2007 to fight extremists and maintain control after Russia fought two wars in the mainly Muslim North Caucasus republic. Kadyrov switched sides during the second war and backed the Kremlin with his father, Akhmad, who was made leader of Chechnya until he was assassinated by militants in a bomb explosion in the capital, Grozny, in 2004.
Kadyrov, who won 98 percent of votes in the September 2016 election, has long been accused of human rights violations including extrajudicial killings, and recently faced international condemnation over reports of an anti-gay crackdown in the region. He denies the charges.
Nemtsov Murder
Separately, Kadyrov said he's convinced of the innocence of five men, including a top Chechen security official, who were convicted in the 2015 murder of Russian opposition leader Boris Nemtsov.
"I am more than certain that they have nothing to do with it," Kadyrov said in the interview. "According to my information, these guys are totally innocent."
A Russian court in July sentenced Zaur Dadayev, who was deputy head of an elite police unit loyal to Kadyrov, to 20 years in prison for the murder. Four accomplices received jail terms ranging from 11 to 19 years. While Kadyrov has expressed doubts about the case, he hasn't outright disputed the verdict before.
Nemtsov, a former deputy prime minister, was shot in February 2015 near the Kremlin in central Moscow, as he was preparing a report about Russia's role in the separatist conflict in Ukraine. In 2011, he published a report that focused on how Putin's inner circle is benefiting from the regime.
Before it's here, it's on the Bloomberg Terminal.
LEARN MORE