Catalan Leader Doubles Down on Independence Pledge
By
Puigdemont says Spain and the EU must accept result as mandate

Catalans head to the polls in regional snap election on Dec.21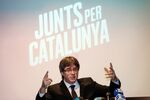 Ousted Catalan President Carles Puigdemont pitched his candidacy ahead of next month's regional election, doubling down on his pledge to make the region an independent state.
Puigdemont, who maintains he's the legitimate regional president after being sacked by the central government, will lead a new platform under the banner of Together for Catalonia. He said on Saturday a victory at the polls on Dec. 21 would serve to ratify his mandate and send a signal to the European Union, which has repeatedly sided with the government of Mariano Rajoy against unilateral attempts for independence.
"The people of Catalonia have shown the world we have the capacity and the will to become an independent state," Puigdemont told an audience in Bruges, Belgium, where he's been staying since declaring independence last month. "On Dec. 21, we must ratify that."
The independence movement is trying to reshape its message after the Rajoy administration invoked unprecedented constitutional powers to oust the regional government and take direct control of the wealthy region. The Madrid government acted after the ill-fated independence declaration that led thousands of local companies move their registered address.
Puigdemont remains in Belgium awaiting a court decision to execute a European arrest order from a Spanish judge on charges of rebellion that could see him jailed for as long as 30 years. He blamed authorities in Madrid for limiting his ability to campaign. Rajoy's administration has accused him of fleeing the nation to escape legal responsibilities.
Catalonia Deputy President Oriol Junqueras and half the ousted regional cabinet remain in prison, pending trial on the same charges unless a judge opts to release them. The question remains whether they'll be able to campaign if the Supreme Court, which is handling the case, finds sufficient grounds to order their release while the investigation continues.
Polls so far show a split Catalan parliament with no obvious majorities. Pro-independence ERC party is predicted to win, replacing Puigdemont's PDeCAT as the leading separatist force, while pro-union Ciutadans and the Catalan Socialists also would add seats.
A loss of seats by the separatist parties in the regional vote will be seen as failure of their strategies while viewed as positive by investors, Spanish Economy Minister Luis de Guindos said Saturday.
"In the short term, we would see a reaction in the equity markets and in risk premiums," Guindos said in the Catalan town of S'Agaro.
Before it's here, it's on the Bloomberg Terminal.
LEARN MORE