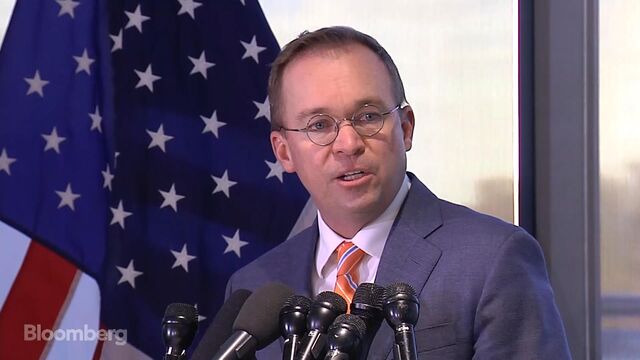 The U.S. Consumer Financial Protection Bureau, a partisan fault line since its inception, now has a legal battle on its hands. The agency's just-departed director, Richard Cordray, tapped a deputy to succeed him on an acting basis. President Donald Trump, who's made clear his distaste for the bureau, named his budget director, Mick Mulvaney, to the interim job. Two heads may sometimes be better than one, but it's a recipe for confusion when it comes to who's calling the shots atop a government agency.
1. What is the Consumer Financial Protection Bureau?
Created by the 2010 Dodd-Frank financial reform law, the bureau says it "makes sure banks, lenders and other financial companies treat you fairly." Its jurisdiction covers a wide variety of financial services marketed to everyday Americans, including mortgages, credit cards, student loans and payday loans. The bureau has more than 1,600 employees, an operating budget of almost $770 million, and offices in Washington, New York, Chicago and San Francisco.
2. Why is the bureau controversial?
Republican lawmakers and the financial industry say its scope is too broad and its powers too strong, maybe unconstitutionally so. As an independent agency within another independent agency, the Federal Reserve, the CFPB has an unusual (though not unique) level of autonomy from executive and legislative oversight. Congress doesn't control the agency's budget -- there's a fund within the Fed for that -- and the president can't remove the agency's director without cause. In October 2016, a federal appeals court ruled the bureau is "unconstitutionally structured" because the autonomy vested in the director marks a "gross departure from settled historical practice." That case hasn't been resolved.
3. Why was it given such autonomy in the first place?
It must sit outside the normal budget process so that it can "stand up to the most rich and powerful," a representative of President Barack Obama's administration told a U.S. House of Representatives subcommittee at a 2011 hearing. That representative was Elizabeth Warren, then a Harvard University professor assisting the Obama administration in setting up the bureau. Warren is now a U.S. senator from Massachusetts and one of the bureau's most ardent defenders.
4. What's the fight about?

Cordray's five-year term was due to run until July 2018 -- at which point, it was long assumed, Trump would appoint someone with a much narrower view of the bureau's mission. But Cordray announced on Nov. 15 that he was resigning early; his last day was Nov. 24. The fight is over who runs the bureau until Trump nominates, and the Senate confirms, a permanent successor -- a process that could take months. Cordray named his chief of staff, Leandra English, to take over as acting director. But Trump named Mulvaney, who in the past has attacked the agency as "sick," "sad" and the "very worst kind of a government entity."
5. Aren't rules of succession spelled out in law?
Problem is, there are two laws. The Dodd-Frank Act states that the bureau's deputy director is in charge "in the absence or unavailability" of the director. Cordray, while announcing his resignation, promoted English to the post of deputy director, which had been vacant for months. On the other hand, a federal law on vacancies allows the president to name a temporary head of an agency when the director resigns. On Sunday, English asked a federal judge in Washington to declare her as acting director and to block Mulvaney from taking charge.
6. Does Trump want to shut the bureau down?
That's what some Republicans in Congress have advocated, but Trump hasn't gone that far. On Twitter, he said the bureau "has been a total disaster" and its actions have left financial institutions "devastated and unable to properly serve the public." He vowed to bring the bureau "back to life" but didn't elaborate.
7. What has the bureau done so far?
It says its enforcement actions have provided $11.9 billion in relief to consumers. That includes a $100 million fine against Wells Fargo & Co. to settle claims over opening accounts without customer approval; a $40 million fine against debt-relief company Morgan Drexen over allegedly deceptive fees; and a $28.8 million settlement with Citigroup Inc. over how it handled borrowers facing foreclosure. The agency also established a database to track consumer complaints about financial products. As a rule-maker, it's worked to enact more restrictions on payday loans and improve banks' disclosures about prepaid cards. Its rule making it easier for consumers to sue their banks was overturned by Republicans in Congress.
8. Wouldn't those cases have been brought anyway?
Some, perhaps, but probably not all. Under Dodd-Frank, the newly created agency was given authority to enforce dozens of consumer financial-protection rules and orders that had previously been divided among seven different agencies, some of which had been accused of being too cozy with the financial industry while paying too little attention to consumers. With its broader scope, the CFPB is free to explore corners of the financial system that don't normally draw government scrutiny.
The Reference Shelf
Before it's here, it's on the Bloomberg Terminal.
LEARN MORE