Russia-OPEC Agree on Framework to Extend Oil Cuts
By , , and
Kremlin said to be willing to announce end-2018 deal on Nov 30

Various options still on the table, says Energy Minister Novak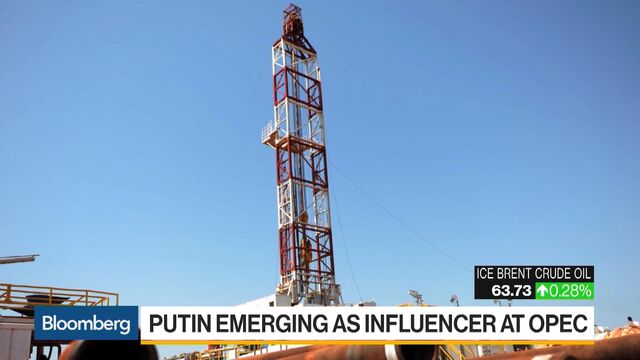 OPEC and Russia have crafted the outline of a deal to extend their oil production cuts to the end of next year, although both sides are still hammering out crucial details, according to people involved in the conversations.
The Organisation of Petroleum Exporting Countries and several non-OPEC nations led by Russia will meet next week in Vienna to discuss prolonging their output curbs. Moscow had been hesitating over the need for an extension now because the current deal doesn't expire until the end of March.
After days of talks, Moscow and Riyadh now agree they should announce an additional period of cuts at the Nov. 30 meeting, the people said, asking not to be named because the conversations are private. Russia wants the extension deal to include new language that would link the size of the curbs to the health of the oil market, they said.

"The goal to re-balance the market hasn't been met in full yet, so everyone is in favor of extensions to reach final goals, Russia also supports these proposals," Energy Minister Alexander Novak said in an interview with RBC television on Friday. "Different options are considered now, we will discuss details at the Nov. 30 meeting."
Read more: Putin has crowned himself OPEC's king
Russian President Vladimir Putin talked on the phone with Saudi King Salman bin Abdulaziz on Nov. 21, during which they "emphasized importance of further coordination between Russia and Saudi Arabia in the global hydrocarbon markets," according to a Kremlin statement.
The deal isn't finalized as Russia and Saudi Arabia haven't yet agreed on the new language, the people said. Oil ministers are due to start arriving in Vienna for the talks early next week.
West Texas Intermediate crude, the U.S. benchmark, extended gains to the highest level since July 2015. Futures for January delivery rose as much as 1.6 percent to $58.92 a barrel in New York.
Discussing Options
OPEC and non-OPEC countries are discussing several formulas to accommodate the Russian demands, including linking the cuts to the supply-demand balance on the global oil market, or the level of fuel inventories in industrialized countries, the people said. Another option is making a clear reference to the fact that the deal could be reviewed again early next year, including the possibility of calling another meeting.
Whatever OPEC and Russia agree, the countries will have an opportunity to review their deal again in mid-2018, as OPEC will probably hold a regular ministerial gathering then. OPEC is organizing its international seminar in Vienna on June 20 to 21. That conference assembles a who's who of the oil world and traditionally coincides with a ministerial meeting.
— With assistance by Dina Khrennikova, and Angelina Rascouet
Before it's here, it's on the Bloomberg Terminal.
LEARN MORE