Rand Faces Test on Looming Risk of South Africa Junk Rating
By
Nine of 16 economists in survey see S&P lowering local debt

Rand may slide to 17 a dollar on a double downgrade: Nedbank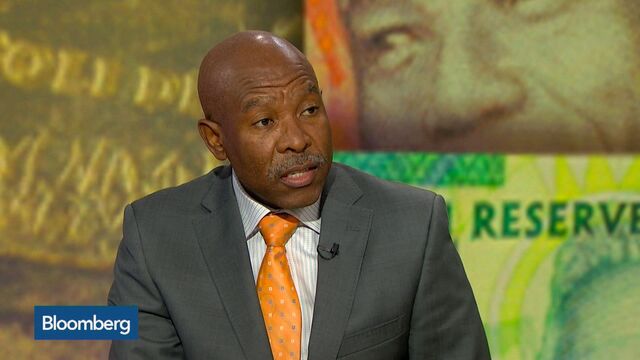 Already bruised by political and budget troubles, the rand faces its next crucial test in less than 24 hours: reviews by two ratings companies.
S&P Global Ratings and Moody's Investors Service are reviewing the country's credit ratings Friday, and nine of 16 economists surveyed by Bloomberg expect the former to deliver a cut to the nation's domestic debt. Four see a similar action by Moody's. A demotion to sub-investment grade by both agencies will result in South Africa's exclusion from Citigroup Inc.'s World Government Bond Index, hurting demand for the nation's currency and bonds.
The rand slumped almost 6 percent versus the dollar since the end of June, the worst emerging-market performance after the Turkish lira, as October's medium-term budget estimated a larger government deficit as well as slower economic growth. A double debt downgrade, combined with unresolved political uncertainties, could see the currency plunge more than 18 percent to 17 per dollar by year-end, according to Nedbank Group Ltd.

"A potential $10 billion can be heading for the door" if both S&P and Moody's cut South African ratings, said Ilke Van Zyl, an economist at Rand Merchant Bank. Although Finance Minister Malusi Gigaba "made mildly positive noise in parliament Wednesday, saying government will push through spending cuts of 25 billion rand ($1.8 billion) and raise revenue by 15 billion rand in the February 2018 budget, this won't meaningfully impact the decisions of the rating agencies."
Fitch Ratings affirmed South Africa's debt rating at BB+ with a stable outlook on Thursday. The move provides South Africa with an opportunity to strive for an improved credit profile, the National Treasury said in emailed statement.
The rand weakened 1 percent to 14.0281 per dollar as of 12:32 p.m. in Johannesburg on Friday, while the yield on the nation's 10-year local debt was little changed at 9.36 percent. Below is a selection of analysts' views on potential rand reaction to a rating cut.
Rand Merchant Bank
A single downgrade would weaken rand by between 30 cents and 40 cents, while rating cuts by both agencies could fuel a 100-cent slide: Van Zyl
If there's no change in the credit ranking, rand could appreciate to 13.50
ETM Analytics
"Given how bearish the market has already become in the run-up to this event, a negative reaction may not be as large as what consensus is predicting," says economist Halen Bothma; no downgrade could trigger a relief rally
"The view is that Moody's is the more conservative of the two firms, so if they decide to hold off on a downgrade for now, we expect a neutral to mildly positive response"
ING Groep NV
"USD/ZAR has witnessed a wild rise over recent months," largely driven by downgrade expectations, head of FX strategy Chris Turner says
The reversal to 13.85 from 14.50 over past week looks to be based on the view that only S&P will lower ratings; see risk of move to 15.00 if both agencies cut credit rankings

SEB AB
"I think a double downgrade is already pretty much priced into the ZAR. It would likely weaken the ZAR a bit, but not much more than around 1%, which is small by ZAR standards," says Per Hammarlund, chief EM strategist in Stockholm
Market will stop trading on the rating news in a day or two, and look forward to commodity expectations and the African National Congress elective conference in December
Nedbank Group Ltd.
Positive developments at the ANC conference, no downgrade and an upbeat global macro backdrop could see the rand strengthen to 13.20 by year-end, according to Nedbank analysts including Reezwana Sumad
An inconclusive ANC outcome, downgrade by one agency and a stable global environment could see rand between 13.80-14.50
A negative political scenario, double downgrade and difficult global background could see the rand weaken to as much as 17 by year-end
Before it's here, it's on the Bloomberg Terminal.
LEARN MORE