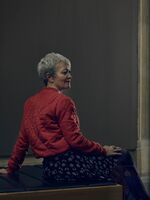 The normally staid world of museum exhibitions has been upended over the past two years by a series of protests that have made global headlines. In 2016, Greenpeace shut down an exhibition at the British Museum sponsored by BP Plc, the fossil fuel giant. In March climate activists in Paris staged dramatic protests demanding that the Louvre abandon its financial agreement with Total SA, another oil and gas behemoth.
That same month, a group of artists in New York attempted to remove a painting depicting the open casket of Emmett Till, a 14-year-old black boy who was lynched in Mississippi in 1955, from the Whitney Museum of American Art, because it was painted by a white woman. Meanwhile, anti-gay protests closed a gender-diversity exhibition at Santander Bank's cultural center in Porto Alegre, Brazil.
Call it a symptom of regional strife or simply the growing pains of an increasingly global society, but for Maria Balshaw, who became director of Britain's Tate museum in June, an energized, politically active public presents an opportunity. "The goal I have for the Tate is one where an artistic vision is held alongside, and absolutely permeates, a sense of our social mission," she says on a recent afternoon, sitting in the sixth-floor restaurant at London's Tate Modern.
The cavernous brick monolith looming over the Thames is one of two Tates in the city. Liverpool has another outpost, and St. Ives, a popular seaside retreat in Cornwall, England, has yet another, which reopened in October after an overhaul that cost £20 million ($26 million).

Balshaw, 47, has taken the helm at arguably the most fertile point in the museum's history: Last year the Tate branches together hosted 8.4 million global visitors, a figure that would represent 15 percent of the U.K.'s total population. According to an Art Newspaper survey, the Tate Modern is the world's most popular modern and contemporary art museum.
Now that the renovation of the Tate St. Ives, housed in a former gasworks, is complete, Balshaw is free from major capital campaigns and can devote her considerable resources to the exhibitions that she—and the public—cares about most. "We have a responsibility to balance that social, ethical, and artistic vision together," she says. The museum generally plans its programming five years in advance, and, with its various locations and £110 million budget, it's far from agile. But Balshaw's top priority doesn't need to wait: She simply wants to bring art to even more human beings. And then more after that. "By 2027, let's say, I would hope that the Tate is part of the life experience and cultural activities of a much wider demographic of people," she says. "The Tate has expanded the landscape for art in this country. Now it needs to ensure that that expanded landscape is shared with the widest community of people possible. That's the social return on the public's investment." Her bet, she says, is that a more diverse range of artists will bring in a more diverse public. "I don't think we should underestimate the curiosity in our wider audience."
Paul Owens, the director of arts consultant BOP, says Balshaw's predecessor, fundraising juggernaut Nick Serota, had a strategy that "depended on very wealthy people." He adds: "In major cities, where you have a rampaging inequality, cultural institutions are trying to answer the question: How do they address other people in society?"

Whether by accident or design, Balshaw has a résumé tailor-made for the times: Her first job after leaving academia was to research the impact of art programs in schools. After a subsequent stint as a regional director of development for the Arts Council England, she was hired as the director of the University of Manchester's Whitworth Art Gallery in 2006.
It was at the Whitworth that Balshaw began to flex her muscle, giving female artists such as Cornelia Parker huge solo shows and championing exhibitions that examined cultural conflict. She spearheaded one timed to the bicentenary of Britain's abolition of slavery, "Trade and Empire: Remembering Slavery," which combined 18th century watercolors that depicted slaves working in sugar colonies alongside contemporary pieces by black artists.
In 2011, Balshaw took on the additional role of director at the Manchester Art Gallery. There, she pushed exhibitions with a political bent, such as a multimedia show by the conceptual artist Jeremy Deller that explored the impact of the British Industrial Revolution on popular culture. The lead image of the exhibition was possibly Deller's most famous: a 1973 photo of the glam rocker Adrian Street, covered in makeup and draped in a bejeweled cape, vamping next to his coal miner father, who wears a look of comic terror.
"She has this incredible ability to bring people and communities from all walks of life together through art," says Raqib Shaw, an artist who had a solo exhibition at the Whitworth. "Her projects are accessible, immersive, and thought-provoking."

When it was announced in January that she'd be replacing Serota, the Tate's director of three decades, it was a surprise to many in the international art world, but a logical choice to most people who knew her. "It was absolutely the most perfect progression," says Samantha Lackey, who is senior curator of programs at the Whitworth and who was hired by Balshaw.
The organization Balshaw inherits at the Tate—with its permanent collection of more than 70,000 artworks, a staff numbering more than 900 employees, and at least a dozen exhibitions going on at any given moment—is a dramatic departure from Manchester. "It has an enormous brand," says Gail Lord, the president of Lord Cultural Resources Inc., an international consultant that's done work for the Tate. "They now have an awful lot of real estate. The real challenge will be to make it work and get significant numbers of more people engaged."
The museum was founded in the late 19th century by Henry Tate, a sugar baron who, after his donation of pre-Raphaelite art was rejected by the National Gallery, led a campaign to build a new museum for British art. He opened the first gallery, overlooking the Thames a short walk from the houses of Parliament, in 1897. When Serota took over its single building in the 1970s, through sheer force of will he raised the funds to open the Tate Liverpool (1988) and the Tate St. Ives (1993) and to purchase the derelict power station in Bankside, across the river from St. Paul's Cathedral, that would become the Tate Modern (2000). Sixteen years later he expanded that building by 60 percent with a $372 million addition. "It's important to remember that 20 years ago, London was not the center of the art world," Balshaw says. "We just accept it as if it's always been like this."

But with that stupendous growth came the absence of anything that would ruffle the feathers of the museum's myriad supporters. Only about a third of the Tate's funding comes from the government; it generates the rest through corporate and private donations and ticket sales to special exhibitions. (Bloomberg LP, which owns Bloomberg Businessweek, is a major donor to the Tate.) And so, over the past decade or two, the Tate Modern has put on inoffensive blockbusters such as the exhibition of Matisse cutouts in 2014. The Tate Britain has had wild successes as well, like the recent David Hockney retrospective, seen by a record half million visitors. Another magnificent show, "Turner and the Masters," compared English Romantic painter J.M.W. Turner's art with paintings by Rembrandt, Titian, and Canaletto. This sort of programming, while popular, sparks discussion of art history rather than a raw examination of current affairs.
Balshaw's willingness to break from that model might rock the boat. But the trustees who appointed her seem to be ready for a change. Several shows, including "Queer British Art" at the Tate Britain (which closed on Oct. 1) and "Soul of a Nation: Art in the Age of Black Power" at the Tate Modern (which closed on Oct. 22), demonstrate that leadership had already begun to pivot toward more "woke" programming even before it hired Balshaw.
She's thought of some quick strategies to expand her audience. She mentions extending museum hours: "Fifteen years ago, when my children were under 5, I would have given any amount of money in the world to find somewhere that was open and had something interesting going on before 6 a.m." And she's hoping to encourage an event-based culture, citing a gay pride celebration in the context of "Queer British Art" as an example. If she can prove that a more diverse crowd wants to learn from exciting, controversial work, she expects all the museum's various supporters will get in line.
"We don't get money from the public purse just because someone fancies it," she says. "We're funded because we make a difference."
Before it's here, it's on the Bloomberg Terminal.
LEARN MORE