Longest S&P 500 Rally Ever? That's Wall Street's Forecast
By
Strategists expect index to hit 2,800 by the end of next year

Bull market is nine months shy of surpassing the one in 1990s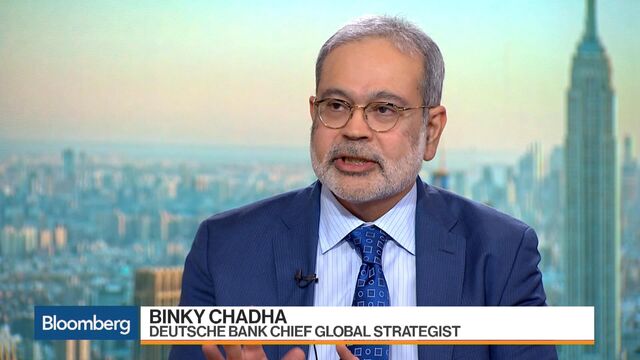 As Wall Street equity forecasters discharge their annual duty of predicting another up year for the S&P 500 Index, it's worth taking a moment to notice what would be accomplished should that projection come true.
At 2,800, the average estimate of nine strategists tracked by Bloomberg points not only to another year of all-time highs, but also an extension of a bull market that would make it the longest ever recorded. Born in the depths of the financial crisis, the advance that started in March 2009 is nine months away from surpassing the 1990-2000 run from the dot-com era.

Wall Street prognosticators, whose penchant for bullishness always looks prescient when prices are rising, are sticking with what works amid a 285 percent surge in the S&P 500. Earnings are expanding at a double-digit pace, they say, the economy is strengthening across the globe with a consistency not seen in a decade, and tax cuts in the U.S. will add stimulus.
"It's a sensible position because historically markets have risen in line with growth of the economy," said Peter Jankovskis, co-chief investment officer of Lisle, Illinois-based Oakbrook Investments, which oversees $1.6 billion. "The logical forecast is for what just happened to continue and calling that turn is inherently difficult."
Phrased differently, anyone heeding strategists' calls should realize that next year's crop bears a close resemblance to virtually every forecast they've made in the past. Data compiled by Bloomberg show that since 1999, Wall Street prognosticators have never once predicted a down year, putting the average annual gain at 9 percent.
To be sure, nothing right now suggests a market meltdown is looming. Stocks just rebounded from a two-week decline, vaulting back to all-time highs, as concern about stress in corporate credit faded and investors turned their focus to favorable seasonal patterns during the holiday season. 

But nor do meltdowns usually give advance warning. Take January 2008, the start of one of the worst years in stock market history. A Bloomberg News story detailed Wall Street's buoyant tone: "Strategists now project an increase of 11 percent for 2008, the most bullish in five years," it noted, citing everything from low valuations to prospects for an expanding economy and interest rate cuts. More than $7 trillion of equity value ended up being erased as the S&P 500 plunged 39 percent.
Fast-forward a decade and a 16 percent gain has put the S&P 500 on track for its best annual rise since 2013, eclipsing even the highest forecast made in January. Stocks have rallied four years longer than they did in the mid 2000s, the S&P 500 is 66 percent higher than its peak in 2007, and price-earnings ratios have expanded by more than 4 points.
And strategists, whose relatively conservative estimates 12 months ago have required them to play catch-up throughout 2017, are all bulls again.
None of the nine who have published their projections expects the S&P 500 to fall from current levels. Brian Belski at BMO Capital Markets is the most optimistic, projecting the index to reach 2,950. Higher earnings will push equities higher despite elevated valuations, he said.
To Goldman Sachs Group Inc.'s David Kostin, tax reform is one big reason to stay invested in stocks. After predicting the S&P 500 would end 2018 at 2,500, he boosted the target this week to 2,850. A reduction in the corporate tax rate is likely to pass early next year. helping earnings expand 14 percent to $150 a share, he estimated.
While most strategists left tax reform out of their base-case scenario, they share Kostin's tax optimism. Keith Parker of UBS Group AG, whose target stood at 2,900, said the S&P 500 can surge to 3,300 should tax cuts take effect next year.
The S&P 500 has exceeded strategists' target by 3.8 percentage points a year during this bull market. At the same time, during 2000-2002, listening to their bullish calls would have resulted in half your investment being lost.
Goldman's Kostin expects the advance to last three more years. To BMO's Belski, worries about the downside risk is one reason why stocks will keep going up.
"Doubt, fear and rushes to judgement have been trying to diagnose the end of the bull market since it began," he said. "It is time to accept fundamentals and turn off the rhetoric."
Quotes from this Article
Before it's here, it's on the Bloomberg Terminal.
LEARN MORE