Japan Says Missile-Defense System Plan Is No Threat to Russia
By
Onodera responds to Russian statement on Aegis Ashore system

Foreign Minister Kono met Lavrov in Moscow on Friday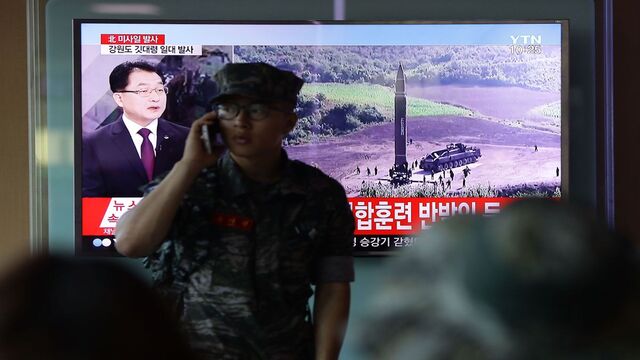 Japan denied Russian claims that its plan to buy a U.S.-developed ballistic missile-defense system posed any threat to the region.
"It is a purely defensive system needed to protect the lives and property of our people," Defense Minister Itsunori Onodera told reporters in Tokyo on Friday. "It does not present a threat to Russia or other neighboring countries. We have explained our thinking to Russia."
Onodera was speaking hours before Foreign Minister Taro Kono met Russian counterpart Sergei Lavrov in Moscow. Russia's Foreign Ministry issued a statement warning of the dangers of Japan's plan to introduce Lockheed Martin Corp.'s Aegis Ashore missile-defense system ahead of the visit, the Tass news agency said.
In the face of a growing threat from North Korea, Japan is seeking to introduce the system to bolster its existing two-layer interception system. Onodera is set to visit a test facility for the Aegis Ashore system in Hawaii in January, Kyodo news said earlier this month.
Russia has "very deep concern" that Japan and Korea may host elements of the U.S. global missile-defense system that's being deployed under the "pretext of threats" from North Korea, Lavrov said after the talks with Kono. The U.S. system is encircling Russia, and it's unacceptable to militarize the region as a response to the Korean crisis, which can only be resolved in a "transparent" way, he said.
Japanese Prime Minister Shinzo Abe has met regularly with Russian President Vladimir Putin since taking office in 2012, but has made little progress toward resolving a territorial dispute that has prevented the countries from signing a peace treaty for seven decades.
— With assistance by Olga Tanas
Before it's here, it's on the Bloomberg Terminal.
LEARN MORE