China Upholding UN Sanctions Against North Korea, Trade Figures Show
Bloomberg News
No imports of coal, iron, lead, aluminum, zinc or copper

Exports from DPRK fell 16 percent, imports down 62 percent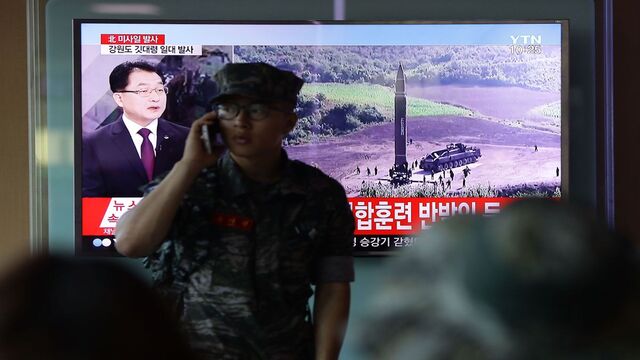 China reported no imports of coal, iron, lead, aluminum, zinc or copper from North Korea in October, according to a breakdown of Customs data released Friday, handing U.S. President Donald Trump a chance to claim Beijing has lived up to its pledge to help curtail Pyongyang's nuclear arms program.
With China's support, the United Nations has agreed to two rounds of sanctions since August, including bans on North Korean exports of iron, coal, lead, seafood, textiles, as well as some oil import restrictions. The UN stepped up its restrictions after North Korea fired missiles over Japan and tested its sixth and most powerful nuclear bomb.
China's overall exports to North Korea fell 16 percent last month versus a year ago, while imports slumped 62 percent, according to Bloomberg calculations based on customs data released on Thursday.
Among the products that China continues to trade with North Korea are exports of fuel, wheat, corn, soy oil, palm oil, rice, cotton, rubber and stainless steel, and imports of fertilizer, log and steel. China exported 53 tons of liquefied gas to North Korea in October, 72 tons of unspecified liquefied gas and other hydrocarbon gas, and 14 tons of jet kerosene, according to trade data.
The U.S. contends that because China is North Korea's main trading partner, it has the leverage to squeeze that supply in an effort to pressure Pyongyang to denuclearize. China says it cannot dictate terms to North Korea and is also concerned that pressing too far could create a humanitarian crisis and trigger a wave of refugees across the border.
'Terror' State
Trump designated North Korea a state sponsor of terrorism this week, subjecting the regime to additional sanctions. Earlier this month, Trump concluded a trip to China and other parts of Asia, and declared progress had been made because Chinese President Xi Jinping "is upping the sanctions against" North Korea.
The UN resolution gave nations a grace period of up to 30 days until Sept. 5 to comply with the sanctions. China reported more than 500,000 tons of coal imports from North Korea in September but said they were due to clearing of stockpiles and accorded with the UN sanctions.
Still, the U.S. remains doubtful about whether China, which accounted for 90 percent of North Korea's trade in 2016, will go further toward deterring Kim Jong Un from pursuing his weapons program. 
The U.S.-China Economic and Security Review Commission, a bipartisan congressional panel, said in a report last week that the U.S. and its allies should "keep their expectations low."
North Korean media reported that China's special envoy stressed "traditional friendly relations" with Pyongyang when meeting with one of the most senior officials in the Workers' Party of Korea last Friday.
— With assistance by Miao Han, Sarah Chen, and Molly Dai
Before it's here, it's on the Bloomberg Terminal.
LEARN MORE