China Bank Profits Face Squeeze From Tighter Rules, Fitch Says
Bloomberg News
Credit growth in China to slow in 2018, ratings company says

Regulators recently stepped up measures to curb financial risk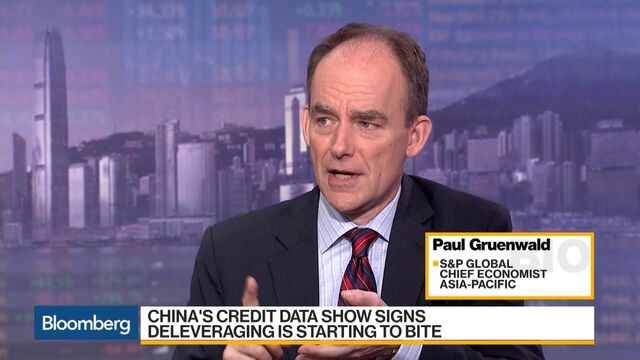 Profit margins at Chinese banks will be squeezed next year and credit growth is likely to slow as increasing regulation eats up capital, Fitch Ratings said.
The lending businesses of the country's smaller banks face the most pressure and they will rely more on larger state-owned rivals for liquidity, the ratings company said in a statement Friday. At the same time, the shadow-banking sector, which one brokerage values at about $19 trillion, will attract even more regulatory scrutiny in 2018, Fitch said.
Chinese regulators are sweeping through the country's $40 trillion financial sector in a bid to contain risk after total debt ballooned to about 260 percent of the size of the economy. In the past week alone, they've proposed rules governing returns from asset-management products, laid out limits on bank shareholdings and unveiled a purge of cash micro-lenders.
"Credit growth is likely to decelerate next year, given the tighter regulatory stance," Fitch said. "Funding conditions are likely to remain tight, pointing to continued margin pressure at smaller banks which rely more on non-deposit funding."
The predictions from Fitch and S&P Global Ratings on Thursday suggest the cost of the system-wide measures will be sluggish profit growth at domestic banks, which include Industrial & Commercial Bank of China Ltd., the world's largest by assets.
New rules pushing shadow-banking items back on to lenders' balance sheets will lead to an increase in risk that could weigh on bank capital, Fitch said. Net income growth in the banking sector will remain in the "low single digits" in 2018, it said.
The ratings company kept its outlook on Chinese banks at stable, saying sovereign support for the sector remains "very strong."
— With assistance by Angus Whitley
Before it's here, it's on the Bloomberg Terminal.
LEARN MORE