markets
Chinese Stocks Tumble Most in 17 Months as Bond Selloff Spreads
Bloomberg News
Chinese Stocks Tumble Most in 17 Months as Bond Selloff Spreads
Bloomberg News
Government bond yields have climbed to three-year highs

State criticism of Moutai shares adds to investor jitters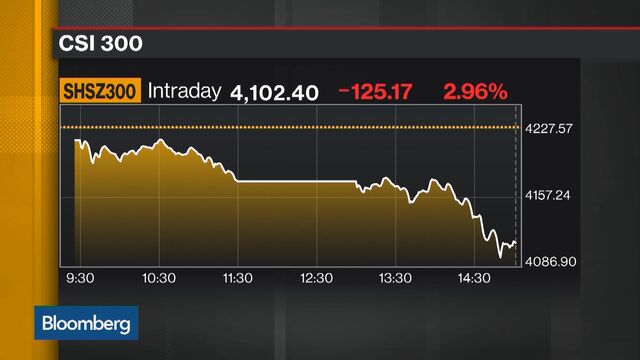 Unease rippled through China's stock market on Thursday, with a gauge of large-cap shares plummeting the most since June last year, as investors fretted a bond rout is getting out of control.
The CSI 300 Index sank 3 percent, with losses steepening in the last hour of trading. Sixteen shares declined for each that rose on the gauge. Industrial & Commercial Bank of China Ltd., Ping An Insurance (Group) Co. and Kweichow Moutai Co. were among the biggest drags on Shanghai's benchmark index. Hong Kong's Hang Seng Index slid 1 percent from a decade-high.

Yields on sovereign debt and top-rated local corporate notes have climbed to the highest level in three years as a deleveraging campaign gathered pace. With more than $1 trillion of local bonds maturing in 2018-19, it will become increasingly expensive for Chinese companies to roll over financing. State criticism that Moutai -- one of the most popular stocks among investors -- had risen too fast this year added to investor jitters.
"Cash is king now on the mainland," said Castor Pang, head of research at Core-Pacific Yamaichi HK. "Rising bond yields will be negative for corporate profits, since it will increase financing costs. That's very bad news for the stock market."
The yield on 10-year sovereign bonds rose above 4 percent on Wednesday, while yields on five-year top-rated local corporate notes have jumped about 33 basis points this month to a three-year high of 5.3 percent, according to data compiled by clearing house ChinaBond.
Moutai slid 2.6 percent in a fifth day of declines. The liquor maker, which has the second-largest weighting on the CSI 300, has lost $16 billion in market value since Xinhua News Agency said last week the stock was rising too fast. Ping An slid 4 percent, its largest drop since February 2016, while ICBC dropped 1.8 percent. The ChiNext gauge of small-cap shares extended its loss for the year to 8.5 percent.
"The decline in Moutai has triggered selloffs in some of this year's best performing stocks," said Zhengyang Shen, Shanghai-based analyst at Northeast Securities. "When those giant stocks fall, retail investors will follow to sell their holdings. The ChiNext stocks do not have much support from the national team, so they fell even more," he said, referring to state-backed funds.
Read more about why China is targeting Moutai shares
Today's tumble was especially jarring given this year's relative placidity in the stock market -- the world's second-largest. Volatility on the Shanghai Composite Index fell to the lowest level in decades earlier this month amid signs the government was curbing speculation in the wake of 2015's $5 trillion rout.
For Dickie Wong, executive director of research at Kingston Securities Ltd. in Hong Kong, it's too soon to talk about panic selling. The CSI 300 is still up 24 percent this year after today's losses.
"You can say this is a correction but I don't think it's a market meltdown," Wong said. "Market sentiment is still okay but after recent gains it's time to pull back."
Selling eased a little in the nation's sovereign debt market on Thursday. The 10-year yield fell two basis points to 4.02 percent, after climbing 39 basis points this month, although the yield on five-year bonds rose three basis points to 4.04 percent.
"The plunge in China's bond market is driving mainland stocks lower, especially financial-related shares," said Steven Leung, executive director at UOB Kay Hian (Hong Kong) Ltd. "Most A-share investors believe there will be further tightening in financial markets. Investor sentiment has been quite cautious in China, even though Hong Kong kept hitting 10-year high. There's a lack of further momentum to move up."
— With assistance by Amanda Wang, Kana Nishizawa, Jeanny Yu, Justina Lee, and Robin Ganguly