Eastern European Banks Are Now Growth Leaders
By
Valuations of region's lenders surge to highest since 2015

Economic growth, prospects for higher rates help banks rebound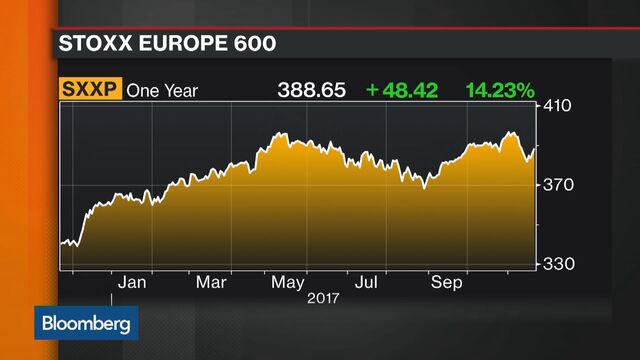 Consumer spending is booming. Interest rates are bottoming out. Eastern Europe's banking sector is on an upswing.
After surviving the toxic mix of near-zero borrowing costs, harsh regulatory curbs and damage from foreign-currency mortgages, lenders are benefiting from economic expansion accelerating to the fastest in years across much of the European Union's east. Polish banks' combined net income rose 8 percent in the first nine months of this year excluding the sale of their Visa Europe stake last year. Hungary's OTP boosted profit by a fifth in that period.
Even politicians have mostly stopped using lenders as their punching bags.
Take the top players in the region's biggest market. Poland's Bank Pekao SA and PKO Bank Polski SA both signaled higher windfalls to shareholders. Units of Erste Group Bank AG and Societe Generale SA got boosts from early monetary tightening in the Czech Republic, while Romanian peers are benefiting from the economy growing at a near double-digit pace. Even Hungary, which has experimented with Europe's highest banking tax, has declared a truce with the industry.
"There are many reasons for being optimistic," ING Bank Slaski's Chief Executive Officer Brunon Bartkiewicz told reporters in Warsaw after announcing a jump in third-quarter earnings. "We've started to see a rebound of investments. Regulations seem to be softer than we thought. The economy is strong and sound."

The increased lure of the financial industry is attracting stock investors and pushing up valuations, with stocks trading near multi-year highs across the region. The average price to book value ratio of Polish lenders surged to a two-year high of 1.44 this month from 1 early last year. This compares with ratios hovering below 1 for western European peers.
The WIGBank index of the biggest listed Polish lenders gained 0.2 percent on Thursday to the highest level since May 2015, extending this year's gains to 31 percent, compared with a 28 percent gain in Warsaw's benchmark WIG20 gauge.
It's the "perfect environment for lenders," said Cezary Stypulkowski, the CEO of MBank SA, Poland's fourth largest.
The improved fundamentals are also emboldening executives to embark on acquisitions. OTP Bank Nyrt., Hungary's biggest, is seeking to extend a string of purchases, riding a wave of consolidation it hasn't witnessed in decades. Raiffeisen Bank International AG has also revived attempts to sell a majority stake in its Polish unit after it was approached by one or more potential buyers.
Banks are benefiting as the region's economic growth is surging at the fastest rate in the European Union. Romania delivered the biggest surprise, with an 8.8 percent advance in the third quarter, though the Polish and Czech economies also delivered healthy growth rates around 5 percent. That compares with an average 2.5 percent in the euro area.
"Solid consumption, wage growth and cautious monetary tightening in countries such as the Czech Republic, Romania and Poland are among key trends that shall be very supportive," said Gunter Deuber, head of economics, fixed income and research at Raiffeisen.
Regulatory Risks
In a further boon, many politicians in the region have stopped treating banks as the source of cash for election promises. Hungary has cut its banking tax and completed its costly cleanup of foreign-currency mortgages. Polish lawmakers have put on ice legislation on loans conversions that would push some lenders into the red and focused on less costly regulation to help only the most troubled borrowers.
For sure, regulatory threats aren't gone, especially in Poland. The financial watchdog in Warsaw is deliberating additional capital rules for banks with foreign-currency mortgage exposure and parliament is set to debate a bill on aid for borrowers.
"Obviously, there still are regulatory risks, but now they seem to be manageable," Stypulkowski said last month. "Polish economic growth driven by strong consumption along with rebounding investments, and accompanied by the prospects of higher interest rates create the perfect environment for lenders."
Stypulkowski's bank, a unit of Germany's Commerzbank AG, has one of the biggest non-zloty loans portfolios and would be one of those most affected by any new obligations. Indeed, only one out of 16 analysts surveyed by Bloomberg recommends buying MBank's shares, against 12 calls for sell. PKO, another group with a large foreign-currency loan exposure, also has 12 sells against 10 recommendations for hold and just 1 buy, according to data compiled by Bloomberg. The ratio is reversed for Pekao, which has less of that risky mortgage type.
Rate Hikes
Still, MBank eyes increasing its return-on-equity ratio to 10 percent in three years from about 8 percent. The improved environment has boosted earnings of the region's lenders with remarkable consistency, with Poland's PKO, Hungarian OTP and the Czech Republic's Komercni Banka AS all beating even the highest estimate of analysts surveyed by Bloomberg in the most recent quarter.
Pekao, in which state-controlled PZU SA bought a controlling stake last year, expects net income to increase 32 percent to a record 3 billion zloty ($836 million) in 2020. Its larger competitor PKO said it may increase profit to above 3 billion zloty this year from 2.9 billion zloty in 2016 and boost it even further next year if economic growth is maintained.
Having coped with record low interest rates, which cut banks' margins, the industry is readying for tightening.
Rates hikes "could help end long-lasting pain for some lenders," according to Tomasz Noetzel, east European banking analyst at Bloomberg Intelligence. 
— With assistance by Krystof Chamonikolas
Quotes from this Article
Before it's here, it's on the Bloomberg Terminal.
LEARN MORE