What Bubble? Julius Baer Says China Tech Stocks Will Rally More
By and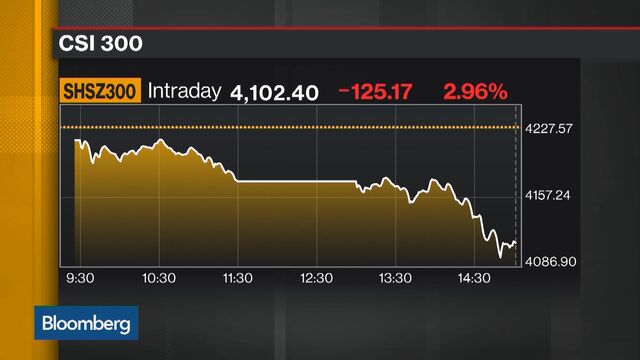 Is there a bubble in the technology-sector driven market rally in Asia?
Mark Matthews, Singapore-based managing director and head of Asia research at Bank Julius Baer & Co. Ltd., said he doesn't see one.
"China is developing a very large information-technology sector, and, it's just going to get bigger and bigger," he said in a phone interview. China, which fund managers have long considered a "tactical" allocation, has now become too big and too important, he added. "It's becoming core for many fund managers. And that will continue for the next five years."

Asian stocks headed for a record close for the second time this month as the regional benchmark gauge surpassed its 2007 peak. The MSCI Asia Pacific Index rose 0.6 percent to 172.65 as of 3:22 p.m. in Hong Kong. The gauge passed its 2007 closing high on an intraday basis on Nov. 9 but didn't hold the level.
Read more on what investors are saying about the surge in Asian stocks
The technology sub-index, up 63 percent this year, has been the force behind the exuberant Asia equities rally. That's almost three times the advance of the second biggest gainer -- materials -- which has risen about 25 percent. Information-technology currently accounts for about 21 percent of the MSCI Asia gauge, on par with financials. This compares with about a 12 percent weighting they had in 2007.

China's Tencent Holdings Ltd., Alibaba Group Holding Ltd. and South Korea's Samsung Electronics Co. have the biggest weightings on the region's main measure. Capitalizing on its popular WeChat messaging platform, Tencent shares have more than doubled this year, and are set for their best annual performance since 2009.
"There's the issue of expensiveness of the technology companies," Matthews said. "They are leading the market and it might get to a point in which people would think this is just too expensive. But I don't think we're there yet."

Read more: another perspective on the outlook for technology shares
Matthews estimates the aggregate price-to-earnings ratio of the five largest technology stocks in the U.S. -- Facebook Inc., Apple Inc., Amazon.com Inc., Microsoft Corp. and Google's parent company Alphabet Inc. -- are still lower than those of what were considered technology behemoths in 2000 as the IT bubble burst.
"Asian markets will continue to go up," he added. "Basically, people were too bearish on China and the technology sector is ascending very rapidly."
To be sure, not everyone is bullish about the IT space. BlackRock's head of Asian and global emerging markets equities Andrew Swan is cautious about the region's technology sector as valuations have been stretched after this year's surge.
Quotes from this Article
Before it's here, it's on the Bloomberg Terminal.
LEARN MORE