North Korea Says Terror State Designation Spurs Faith in Nukes
By and
Isolated nation will keep hold of its 'precious nuclear sword'

UN Command says state breached armistice with border fire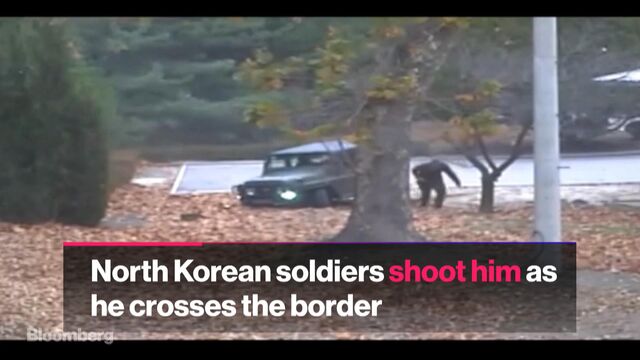 U.S. President Donald Trump's designation of North Korea as a state sponsor of terrorism is a severe provocation that reminds the country it should keep hold of its "precious nuclear sword," the nation's foreign ministry said through its official Korean Central News Agency.
In the Korean language statement on Wednesday, Pyongyang said it opposed any form of support for terrorism, adding that it will continue to develop nuclear arms and its economy at the same time.
The U.S. slapped new sanctions on North Korea following Trump's announcement Monday he would designate the country a state sponsor of terrorism. Pyongyang has accelerated its weapons program this year, test-firing long-range intercontinental ballistic missiles that it says could hit the U.S. mainland with a nuclear warhead.
Trump's designation symbolically ratchets up the roiling standoff between the U.S. and North Korea over Pyongyang's program to develop nuclear weapons and intercontinental ballistic missiles that could hit the U.S. mainland. Trump returned last week from a five-nation tour of Asia in which the confrontation with North Korea figured prominently.
Separately, the United Nations Command said Wednesday that North Korea breached the inter-Korean armistice agreement when its border guards fired across the military demarcation line with South Korea at a defecting soldier.
The UNC released a video Wednesday of the soldier crossing the demarcation line into South Korea last week. It said in a statement it would seek a meeting with North Korean officials.
The footage shows a vehicle speeding down a road before hitting an embankment; North Korean guards then run toward the vehicle, prompting the driver to set out on foot southward toward the border. The North Korean guards get within 15 feet of the defector and start shooting before he stumbles across the demarcation line.
A spokesman for U.S. Forces Korea said North Korea violated the terms of the armistice when its guards fired across the demarcation line, and one of them briefly crossed over. The report was forwarded to Pyongyang with a request for a meeting with the aim of preventing such violations in the future. 
North Korea and South Korea, a key U.S. ally, are technically still at war, with Kim Jong Un's regime saying a 1953 armistice agreement is invalid. The two countries are separated by a demilitarized zone and have large military presences on either side.

The defector was severely injured but has regained consciousness in a South Korean hospital, Yonhap News said Tuesday. He was shot five or six times in the elbow, shoulder and abdomen, the news agency said.
Before it's here, it's on the Bloomberg Terminal.
LEARN MORE