U.K. Bows to Worsening Economy, More Borrowing as Brexit Nears
By and
OBR sees 2018 growth at 1.4% compared with 1.6% March forecast

Hammond sets aside 3 billion pounds for Brexit contigency plan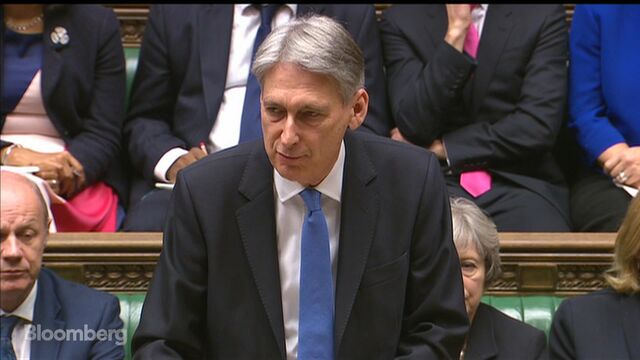 U.K. Prime Minister Theresa May's troubled government resigned itself to a deteriorating economic outlook as it committed 3 billion pounds ($4 billion) to prepare for Brexit and tried to make housing more affordable for the young.
In delivering his annual budget on Wednesday, Chancellor of the Exchequer Philip Hammond acknowledged official forecasts which showed Brexit already inflicting an economic cost. The Office for Budget Responsibility predicted growth will now undershoot 2 percent every year through 2021 and it halved its estimate for productivity gains over the next five years.

Pinned back by such projections and his personal preference for fiscal prudence, Hammond still sought to rally fellow Conservative lawmakers desperate for him to safeguard the economy and their political futures as the divorce with the European Union looms.
He abolished the tax on home purchases for first-time buyers on all properties up to 300,000 pounds, handed an extra 7.5 billion pounds to the health service and smoothed access to welfare benefits. Each policy represented an attempt to close off lines of attack from the opposition Labour Party still feeling the glow of June's election which cost May her parliamentary majority.
Yet the OBR was quick to point out the flaws in the headline-grabbing stamp duty announcement. Though sold as a popular measure to help aspiring homeowners, it will increase house prices by 0.3 percent" and "the main gainers from the policy are people who already own property."

Read more about why the stamp duty measures won't fix housing market
Brexit also cast a long shadow over Hammond's calculations as he built a contingency plan "to ensure that the country is prepared for every possible outcome" from the split.
The budget watchdog said it now sees growth this year of 1.4 percent compared with the 1.6 percent predicted in March and the 2.2 percent forecast before 2016's referendum. The downgrade is at odds with strength elsewhere in the world economy and led the OBR to estimate the U.K. will need to borrow an extra 29 billion pounds by 2022. Taking into account technical changes, the increase in borrowing amounts to 53 billion pounds.

All this means that Hammond remains on course to meet his fiscal rules, but with only 15 billion pounds to spare rather than the 26 billion pounds he thought he had in March -- when he presented the previous Budget.
Read more about how the productivity downgrade hurt the budget
Despite the new economic reality, Hammond sought to strike an optimistic tone after a month in which May's government was rocked by resignations, rebellions and sluggish progress in the Brexit negotiations.
What Our Economists Say...
"Today's decisions will act as a modest boost to growth in 2019-20 and a drag in the following year. The policy package is small enough to escape the Bank of England's notice. But, as ever, much depends on Brexit. If talks stall, the Chancellor will have to scrap his fiscal rules and borrow more. If they go well, there would be room to borrow more, just ahead of the next election."

-- Jamie Murray and Dan Hanson, Bloomberg Economics

For more, see our U.K. React 
Early feedback from Tory lawmakers indicate he performed well enough to secure his own future amid reports May remains keen to fire him and criticism from pro-Brexit politicians who view him as overly gloomy.
Opposition Labour Party leader Jeremy Corbyn reminded lawmakers that the government had once said the budget deficit would be eradicated by 2015, a decade sooner than it's now aiming for. "It's a record of failure with a forecast of more to come," Corbyn said. "Appalling pay, slow growth and rising poverty and this is what the chancellor has the cheek to call a strong economy."
Read more about the budget winners and losers
Housing Crisis
Under pressure from young voters who feel increasingly alienated from the economy, Hammond said there will be support for programs to build affordable homes and to force through the construction of housing on disused land. Local authorities will also have the power to double taxes on properties left empty.
The chancellor also froze tax on fuel and alcohol and by making it easier to access the flagship Universal Credit program bowed to complaints from lawmakers on all sides that the poor were having to wait too long to get help. He also offered relief to small businesses.

Thresholds for paying income tax will be raised to 11,850 pounds for the basic rate of 20 percent and 46,350 pounds for the 40 percent higher rate. He also sped up a reform to property taxes for businesses, which he said will save them 2.3 billion pounds over five years.
Hammond's package of measures gained a cautious welcome from Nicky Morgan, the former Tory cabinet minister who now heads Parliament's Treasury Committee and is one of the most persistent critics of May's Brexit policy.
"Brexit hangs over this place and the U.K. like a cloud," she told the Commons. "So it was important that today's budget should show the government's determination to do more than just announce our path out of the U.K."
Before it's here, it's on the Bloomberg Terminal.
LEARN MORE