N.Y. Says FCC Won't Aid Probe Into Fake Net Neutrality Comments
By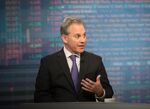 Attorney General Eric Schneiderman accused the Federal Communications Commission of refusing to aid an investigation into what he called a massive scheme to corrupt the U.S. agency's comment process concerning the possible repeal of net neutrality rules.
Tens of thousands of identities of real New Yorkers -- and hundreds of thousands of Americans nationwide -- had their identities misused in fake comments through a strategy that was first discovered by researchers in May, Schneiderman said Tuesday in an open letter to the FCC.
Since then, Republican FCC Chairman Ajit Pai -- who on Tuesday proposed vacating Obama-era net neutrality rules that he said amount to micro-managing the Internet -- has failed to provide any substantive response to investigative requests, Schneiderman said. The response was the same from the FCC general counsel, he said.
"In an era where foreign governments have indisputably tried to use the internet and social media to influence our elections, federal and state governments should be working together to ensure that malevolent actors cannot subvert our administrative agencies' decision-making processes," Schneiderman, who is a Democrat, wrote in the letter.
Before it's here, it's on the Bloomberg Terminal.
LEARN MORE