Kellyanne Conway's Attack on Alabama Democrat Draws Legal Complaint
By
Former ethics official says Conway violated Hatch Act

Any penalty would be up to President Trump to determine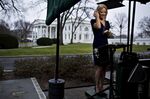 Kellyanne Conway, counselor to President Donald Trump, ran afoul of federal law when she attacked the Democratic candidate in Alabama's Senate special election during a Fox News appearance Monday morning, according to Walter Shaub, former director of the Office of Government Ethics.
Shaub, now at the Campaign Legal Center, tweeted Wednesday that he has filed a complaint against Conway with the U.S. Office of Special Counsel, which said it would open a case file. That office investigates violations of the Hatch Act, which bars most government officials from using their official positions to engage in partisan politics. Penalties can range from a fine of $1,000 to removal from federal service.
In the case of political appointees, like Conway, penalties are determined by the president. Recent violations, including one in the Obama administration, have resulted only in additional training for the appointees. A White House spokesman said Conway did nothing wrong.
"Ms. Conway did not advocate for or against the election of a candidate, and specifically declined to encourage Alabamans to vote a certain way," said Raj Shah, deputy press secretary. "She was speaking about issues and her support for the president's agenda."
Conway stood in front of the White House during the segment on Fox & Friends Monday, and was identified as counselor to President Trump. She was promoting the Republican tax plan, but veered into electoral politics after expressing the hope that the measure would pass with bipartisan support.
"Doug Jones in Alabama? Folks, don't be fooled. He'll be a vote against tax cuts," Conway said of the Democratic candidate in the race. "He's weak on crime, he's weak on borders, he's strong on raising your taxes."
When asked, Conway stopped short of saying Alabama voters should support Roy Moore, who's facing allegations of sexual misconduct, including with minors, from decades ago. "We want the votes in the Senate to get this tax bill through," she said.
Shaub, who has been critical of the ethics of the Trump administration, tweeted Monday: 
"It seems pretty clear she was appearing in her official capacity when she advocated against a candidate."
Ethics Counseling
The Fox interview isn't the first time Conway has dealt with fallout over her comments on television. She received ethics counseling, but no disciplinary action, after a February appearance on Fox & Friends when she gave a "free commercial" for Ivanka Trump's clothing line. Federal employees are barred from promoting private businesses. Conway's endorsement was offered following reports that retailers, including Nordstrom Inc., had dropped the line amid declining sales.
"It's a wonderful line. I own some of it," Conway said during the February interview. "I'm going to give it a free commercial here. Go buy it today everybody; you can find it online."
Shaub, who headed OGE at the time, criticized the White House response to the incident. "Not taking disciplinary action against a senior official under such circumstances risks undermining the ethics program," he wrote in a March letter to the White House.
Scavino Warned
Conway isn't the first Trump official to run afoul of the law. In June, the Office of Special Counsel, an independent investigative and prosecutorial agency, issued a warning to Dan Scavino, White House director of social media, for an April tweet in which he called for Trump supporters to defeat Representative Justin Amash, a Republican from Michigan and a critic of the president. 
The OSC has also issued a warning to Nikki Haley, the U.S. ambassador to the United Nations. Haley retweeted Trump's endorsement of Ralph Norman, a South Carolina Republican running to fill the House seat vacated by Mick Mulvaney, who resigned from Congress to serve as director of the Office of Management and Budget.
Officials have been cited for violating the law during media interviews before. During Obama's administration, the OSC found that Julian Castro, then Housing and Urban Development secretary, violated the Hatch Act when he expressed his preference for Hillary Clinton as president in an April 2016 interview with Yahoo News. Castro prefaced his remarks by saying he was speaking individually, and not in his capacity as a government official.
Josh Earnest, President Barack Obama's spokesman, said then that Castro would receive training to better comply with the law during media interviews.
Before it's here, it's on the Bloomberg Terminal.
LEARN MORE