Corbyn Means Business: An Investor Guide to Labour's Plan for the U.K.
By and
Nationalizing rail, utilities, Royal Mail among costly plans

Labour seeks to raise taxes for the rich to pay for services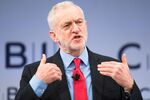 With Prime Minister Theresa May under fire from her own Conservatives and Jeremy Corbyn's opposition Labour Party leading in the U.K. polls, the chances are rising for a third election in as many years.
Wednesday's budget is an opportunity for May to regain some of the ground lost with young voters in the election in June. But any missteps could plunge her government into another crisis.
While no Tory would relish another election so soon after May's disastrous snap poll, the political climate is so volatile that Labour is increasing seen as the "government in waiting." So what would an old-school socialist at the helm mean for business?
1. Taxes
In its manifesto for the election in June, Labour pledged an income tax increase for the top 5 percent of earners -- those with an income of more than 80,000 pounds ($106,000) -- to inject a further 6 billion pounds a year into the National Health Service. Corporations would also pay "a little more:" 26 percent by 2020, up from 19 percent now.
What it means: Raising the top rate of income tax risks "diminishing the U.K.'s appeal," the Centre for Economics and Business Research said in the run-up to the election. Lobbyists warned that a tax on health insurance would flood the NHS with more patients. Increasing corporation tax is a popular measure with the public. Labour estimated the measure would raise 19.4 billion pounds. The Institute for Fiscal Studies agreed it could raise that in the "near term," but said it would raise "substantially less in the medium to long run because companies would respond by investing less in the U.K."

2. Energy
At the election, Labour pledged an "emergency price cap" for consumers and changes to licensing rules to allow government to take control of how local and national energy grids are run. It said it would keep up a push for new nuclear power, which means progressing with Electricite de France SA's reactors at Hinkley Point, promote tidal power -- such as a proposed plant in Swansea Bay -- and ban fracking.

What it means: The Tories are already moving to cap energy prices, so Labour would represent little change from current policy. The same goes for nuclear. The fracking ban will please rural voters, but cause a rift with trade unions. And tidal lagoons have wide support among backbench lawmakers from all parties, as well as supply chain businesses across the country. But there are also concerns about the potential subsidy level required.
3. Takeovers
At the election, Labour pledged to change the takeover code to require a clear plan to protect workers and pensioners. With the collapse of the retail chain BHS still fresh in the public's minds, "workers shouldn't suffer when a company is sold," the party said in its manifesto. Businesses identified as "systemically important" would be protected from hostile takeovers.
What it means: The plans are likely to be popular with voters who feel politicians haven't defended jobs and workers against the effects of globalization. Potential foreign buyers, lured by a weaker pound, would risk being blocked, and may be put off from making U.K. investments. Labour's plans would go further than proposals last month from the government to make it easier to block takeovers when ministers are worried about security.
4. Corporate Governance
Labour pledges to repeal the 2016 Trade Union Act, which increased the threshold for a strike ballot to be considered valid, and roll out collective bargaining to allow groups of employees to negotiate with employers. It would also set a maximum pay ratio for the public sector, meaning the highest paid person can only make 20 times more than the lowest paid in a company bidding for government contracts.
What it means: Companies such as BT Group Plc, Centrica and Mitie Group Plc could all be affected by the pay measures. BT Chief Executive Officer Gavin Patterson already saw his pay package slashed by 4 million pounds over an accounting scandal. Under these proposals his maximum pay could drop to 400,000 pounds. "Policies like banning zero-hour contracts, or introducing pay ratios for companies with government contracts are worryingly knee-jerk reactions," according to Stephen Martin, director general of the Institute of Directors.
5. Nationalization
At the election, Labour talked about renationalizing energy companies, without going so far as buying out all of the so-called Big Six that include Centrica Plc and SSE Plc. At the Labour Party conference last month, the party's finance spokesman, John McDonnell, suggested the party may go further, pledging to bring utilities and "key public services" back into public ownership and control. "Rail, water, energy, Royal Mail -- we're taking them back," he said. He also said the party would bring "existing" private finance initiative contracts -- set up to fund infrastructure projects using private capital -- "back in-house."
What it means: Stockholders would be given government bonds as compensation under the Labour nationalization plan. "History has taught us that nationalized industries are costly and inefficient, place a massive burden on taxpayers as they will require a huge amount of state support and typically provide terrible services," according to Mark Littlewood, director general at the Institute of Economic Affairs. 
There would also be a cost to taking ownership of the PFI projects. Government data show that there are 716 such projects with a capital value of 59 billion pounds. Future payments due on those contracts total more than 200 billion pounds. It may not come to that: the party's health spokesman Jon Ashworth suggested the policy would focus on just a few of the contracts.
6. Public Spending
Labour has pledged to abolish university tuition fees and "begin the biggest council building program for at least 30 years" while introducing controls on rent rises to "end insecurity for private renters." In a populist note, the party has also pledged it would fund the installation of sprinklers in all social housing, following a devastating fire in a west London tower block in June that killed 71 people. All of this while eliminating the current budget deficit within five years.
What it means: The pledge to get rid of university tuition payments was a winning gambit for the Liberal Democrats in 2010, but their failure to deliver may make voters more skeptical this time around. It is also expensive; the IFS estimates bringing back maintenance grants and abolishing tuition fees would increase the deficit by about 12.7 billion pounds. Labour has said it would put aside 1 billion pounds to fund the fire safety measures.
— With assistance by Jess Shankleman, and Svenja O'Donnell
Before it's here, it's on the Bloomberg Terminal.
LEARN MORE