China's Former 'Internet Czar' Ensnared in Xi's Corruption Fight
By
'First tiger' nabbed since Xi secured second five-year term

Lu oversaw internet crackdown, met chiefs of Apple, Facebook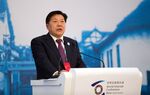 China's former top internet regulator became the first senior official put under investigation for corruption since President Xi Jinping secured a second term in office during a leadership reshuffle last month.
Lu Wei, who ran the Cyberspace Administration of China since its launch in 2014 to last year, is suspected of "serious violations of discipline," according to a brief statement released Tuesday night on the website of the Central Commission for Discipline Inspection, the Communist Party's top graft-busting agency. The phrase typically refers to corruption and abuses of power.
"The first tiger after the 19th congress!" the CCDI said, referring to the leadership reshuffle. The move showed "determination of applying strict party discipline under Xi Jinping the core party leader" and was "a strong signal the anti-corruption drive will not relent."
The downfall of Lu, 57, shows that Xi's signature clampdown on corruption is set to continue over the next five years after he became one of China's most powerful leaders in decades. About 1.5 million officials -- including senior-ranked "tigers" and lowly "flies" -- were brought down during his first term.
"There was speculation that the anti-graft drive would lessen in the second term, and the Lu Wei take-down squashed that speculation," said Zhu Lijia, a public affairs professor at the Chinese Academy of Governance in Beijing, a research institute under the State Council. "Such a high-profile move gives an indication of the tempo and intensity of the drive in the second term."
Cook, Zuckerberg
Lu had been the most powerful figure in China's cyberspace during his tenure, acquiring the nickname "internet czar" for his hardline approach and swagger. His tenure saw the release of a string of regulations that amounted to the biggest crackdown on freedom of expression in China in the internet age.
Lu met frequently with executives from global technology giants, including Apple Chief Executive Officer Tim Cook, Microsoft Corp. CEO Satya Nadella, and Facebook Inc. founder Mark Zuckerberg. Still, foreign companies have struggled to make inroads against homegrown players in the world's biggest market.
At the twice-a-decade Communist party congress last month, Xi made it clear that the country's internet wouldn't be getting more liberal in the next five years. He called for establishing a "clean cyberspace" and said "we must oppose and resist various erroneous views with a clear stand."
Lu helped launch China's first World Internet Conference in 2014 in the eastern city of Wuzhen, and Xi spoke at the event the following year. The annual event is scheduled to take place two weeks from now.
Before it's here, it's on the Bloomberg Terminal.
LEARN MORE