China's $3.4 Trillion Corporate Bond Market Faces Rocky 2018
By , , and
Yields on AAA rated notes have jumped as deleveraging kicks in

Weaker companies to find it harder to refinance debt: Gui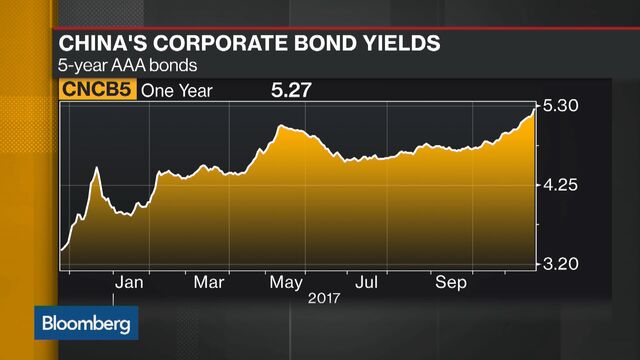 China's deleveraging campaign is finally starting to bite in the nation's corporate-bond market, a shift that will make 2018 a clearer test of policy makers' appetites to let struggling companies fail.
Yields on five-year top-rated local corporate notes have jumped about 33 basis points since the month began, to a three-year high of 5.3 percent, according to data compiled by clearing house ChinaBond. Government bonds, which have far greater liquidity, had already moved last month as the central bank warned further deleveraging was needed.
With more than $1 trillion of local bonds maturing in 2018-19, it will become increasingly expensive for Chinese companies to roll over financing -- and all the tougher for those in industries like coal that the nation's leadership wants to shrink. Two companies based in Inner Mongolia, a northern province that's suffered from a debt-and-construction binge, missed bond payments on Tuesday, in a demonstration of the kind of pain that may come.
In the long haul, that all may be good for China. Allowing more defaults could see its bond market become more like its overseas counterparts, with a greater differentiation in price. And that could mean it channels funds more productively.
"The deleveraging campaign and the new rules on the asset management industry will further differentiate good and bad quality credits, and make the onshore credit market more efficient," said Raymond Gui, senior portfolio manager at Income Partners Asset Management (HK) Ltd. "Weaker companies will find it harder to roll over their debts because funding costs will stay high."

Gui predicts yields will keep climbing. The average for top-rated corporate bonds is already 2.2 percentage points higher than October last year. Weakness in the bond market has other consequences too: the drop contributed to a slide in sentiment in stocks Thursday, with the Shanghai Composite Index plunging more than 2 percent, the most this year.
Higher yields come as authorities show greater determination to shift the economy onto a more sustainable footing, with less debt. The latest move was a plan to discipline the asset-management industry, including banning guaranteed rates of return. People's Bank of China Governor Zhou Xiaochuan graphically depicted the risk of excess leverage, by evoking a "Minsky moment," or sudden collapse of asset values.
Key to that endeavor will be scaling back some of the implicit credit guarantees that have backed a broad swathe of Chinese borrowers. The country only started allowing corporate defaults in 2014. Last year there was a record, coming in at at least 29. It's unclear yet whether that total will be met in 2017.
Debt Danger

Next year, some $593 billion of onshore corporate bonds come due. And with broad expectations of a slowdown in economic growth closer to 6 percent than this year's 7 percent, challenges will be deepening.
Less money will be going into the the corporate bond market as a result of the incoming asset-management rules, says Hong Hao, chief strategist at Bocom International Holding Co. in Hong Kong. That's because they're more volatile. Issuance already has been slowing, with sales dropping 31 percent to the equivalent of $917 billion so far this year from the same period in 2016.
"We expect the divergence of performance between different bond categories (Chinese government bonds, policy bank bonds and credits) to become more prominent into 2018," Albert Leung and Prashant Pande, rates strategists at Nomura Holdings Inc., wrote in a note Wednesday.

Borrowers' best bet will be not to rush to market, but pace themselves, according to Chen Peng, fixed-income analyst at Fortune Securities Co. in Shenzhen. One boon is that many have issued at relatively low rates over the past couple years, he says. 
And policy makers will want to make sure that there's no major damage to growth from their deleveraging campaign. Getting that balance right is one of the biggest issues facing the global economy in 2018, says Andrew Tilton, chief Asia-Pacific economist for Goldman Sachs Group Inc.
"China is almost half the world's investment, so managing that tightening in that area and that gradual investment slowdown is really key, not just for China but for the whole world," Tilton said in a Bloomberg Television interview this week.
— With assistance by Kana Nishizawa
Before it's here, it's on the Bloomberg Terminal.
LEARN MORE