Australia Fears Asia Power Shift to China If U.S. Withdraws
By
Turnbull's government releases foreign policy white paper

Urges U.S. to continue support for global rules-based order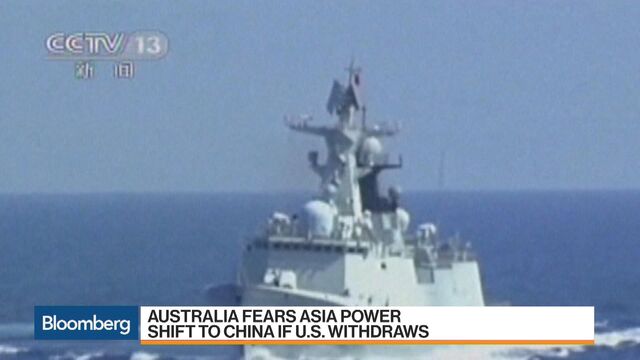 Australia is concerned that China's military expansion in the South China Sea will lead to clashes in Asia and wants the U.S. to remain involved in the region, according to a new policy paper released by the government.
The power balance would shift to Beijing should the U.S. withdraw its political, economic and security ties, according to the foreign policy white paper, the first in 14 years. Prime Minister Malcolm Turnbull called the document "clear-eyed and hard-headed" and said Australia would seek a bigger role in shaping regional affairs.
"In the past we could safely assume that the world worked in a way that suited Australia," Turnbull told reporters on Thursday in Canberra. "Now power is shifting and the rules and institutions are under challenge," he said. "We are experiencing unprecedented prosperity and opportunity but the liberal, rules-based order that underpins it all is under greater stress than at any time since its creation in the 1940s."
On China, Turnbull said: "This is the first time in our history that our dominant trading partner is not also a dominant security partner."
President Donald Trump's withdrawal from the Trans-Pacific Partnership trade pact in favor of an "America First" approach to the U.S. economy has left Asian governments questioning his commitment to the region. Australia has sought to balance its military alliance with the U.S., which bases as many as 2,500 Marines in the country, and China, a key buyer of its resources such as iron ore and coal.
READ MORE: Trump's Trade Barbs Push Asian Nations Closer to China's Orbit
"Australia is particularly concerned by the unprecedented pace and scale of China's activities," the white paper said. "Australia opposes the use of disputed features and artificial structures in the South China Sea for military purposes. Elsewhere in the region, Australia is concerned about the potential for the use of force or coercion in the East China Sea and Taiwan Strait."
The Australian government's comments on the South China Sea are "irresponsible," Chinese Foreign Ministry spokesman Lu Kang said on Thursday at a regular briefing in Beijing, the state-run Global Times reported.
All countries in the region are seeking to maintain peace in the waterway, using bilateral channels to keep a lid on their differences, Lu said.
"Australia is not a claimant to the South China Sea and the Australian government has repeatedly stated that it does not hold a position on the South China Sea disputes," he said. "We urge Australia to abide by its own commitments and stop making irresponsible statements on the South China Sea issue."
Land Reclamation
The U.S. has criticized China for land reclamation and other moves to assert control over areas also claimed in part by Southeast Asian countries. Successive U.S. administrations have expressed concern that China's activities would disrupt freedom of navigation in major global shipping lanes -- an assertion that Beijing rejects.
President Xi Jinping has strengthened China's military while also seeking to reassure the region his government wouldn't seek hegemony. He has worked to expand China's soft power with his signature Belt and Road Initiative to expand infrastructure links between Europe and Asia.
"Like all great powers, China will seek to influence the region to suit its own interests," the white paper said. "As it does, a number of factors suggest we will face an increasingly complex and contested Indo–Pacific. Compounding divergent strategic interests as China's power grows, tensions could also flare between them over trade and other economic issues."
While Trump declared his 12-day swing through Asia this month a success, he devoted most of his time to warning countries that the days of big trade deficits with the U.S. were over. That signals a move away from a U.S. strategy since World War II to enhance economic ties in Asia in order to boost security links. Thirty-eight percent of people in the Asia-Pacific region think relations with the U.S. will get worse during Trump's presidency, according to a Pew Research Center poll.
"Australia will continue strongly to support U.S. global leadership," the white paper said. It noted there is a debate within the U.S. about the costs of its international presence.
"We believe that the United States' engagement to support a rules-based order is in its own interests and in the interests of wider international stability and prosperity," the paper said. "Without sustained U.S. support, the effectiveness and liberal character of the rules-based order will decline."
— With assistance by Keith Zhai
Before it's here, it's on the Bloomberg Terminal.
LEARN MORE