What Investors Are Saying About Asia's Record Equity Rally
By
Region's stock benchmark surpasses closing high set in 2007

MSCI Asia Pacific Index has surged 28 percent this year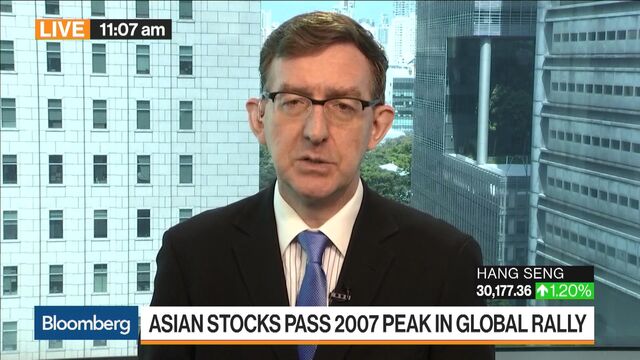 Asian stocks headed for a record close for the second time this month as the regional benchmark gauge surpassed its 2007 peak, led by energy and industrial stocks after U.S. equities continued their bounce from a two-week slide.
The MSCI Asia Pacific Index rose 0.6 percent to 172.67 as of 4:37 p.m. in Hong Kong. The gauge passed its 2007 closing high on an intraday basis on Nov. 9 but didn't hold the level. Japan's Topix index climbed for a second day Wednesday, rising 0.3 percent, after its worst week in seven months. Hong Kong's benchmark Hang Seng Index breached the 30,000 level for the first time in a decade, boosted by China banks and energy stocks. India's S&P BSE Sensex added 0.4 percent, with foreign buying of the nation's stocks so far this month on course to be the highest since March.

"Anyone who missed the rally probably wonders if it is too late to join the party," Andrew Swan, head of Asian and global emerging markets equities at BlackRock Inc., said in a statement Wednesday. "We don't believe it is."
The Asian equity gauge has outperformed its U.S. and European peers this year, led by surging Chinese stocks such as China Evergrande Group and Sunac China Holdings Ltd. Tencent Holdings Ltd.'s share price has more than doubled this year, beating Alibaba Group Holding Ltd. to become the first Chinese technology stock to break the $500 billion market value barrier. The MXAP Index has advanced 28 percent in 2017, versus a 16 percent increase for the S&P 500 Index.

Taiwan chipmaker Vanguard International Semiconductor Corp. was the regional benchmark's best performer Wednesday, surging 9.9 percent, while South Korea's Lotte Corp. paced gains with a 5.4 percent jump after Lotte Group chairman Shin Dong-bin sold a 3.57 percent stake in Lotte Shopping via block trading on Tuesday. TDK Corp. rose 5.9 percent in Tokyo, while Mirae Asset Daewoo Co. jumped 6.2 percent in Seoul.
Here's what investors and strategists are saying:
Timothy Moe (analyst at Goldman Sachs Group Inc.)
Earnings growth has been the main driver of the gains this year for MSCI Asia Pacific ex-Japan Index, according to a report published Wednesday
Corporate profits, which accounted for 19 percentage points of the index's 30 percent advance so far this year, will also push stocks higher in 2018
"Macro growth should remain firm, driving a 14 percent rise in profits"
The second half of 2018 could bring challenges as central banks around the world scale back stimulus
Mark Matthews (head of Asia research at Bank Julius Baer)
Asian markets will continue to go up given the perpetual correlation with U.S. stocks and there's no reason for U.S. to enter a bear market
Expects investors to allocate more money in China
Investors were too bearish on China in the past, but the country's rapidly ascending IT sector and its reforms are turning the nation to a "core" bet to fund managers
China is also the cheapest market in Asia, which is the only one trades less then 10 times 2018 earnings
Hao Hong (chief strategist at Bocom International Holdings Co.)
Asia is still in a cycle of earnings improvement which will continue to support the benchmark index
The MXAP gauge is heavily weighted toward information technology companies which are showing strong earnings
Monitor growth momentum of technology giants that have been leading gains
Cristina Ulang (head of research at First Metro Investment Corp.)
Rally is going to continue until 1H18 before tightening kicks in in 2H
Asia emerging market shares have double-digit growth in earnings, which support valuations; money will continue to be invested in Asia
Inclusion of mainland shares into MSCI EM Index to give the index a further boost
Michael McCarthy (market strategist at CMC Markets)
The new all-time highs in the U.S. have led to a great start in Asia Wednesday and global sentiment continues to improve
Investors have a fear of missing out, so that momentum may continue
The "fragile position" of global monetary policies may be a source for shocks in 2018
Eddie Tam (chief executive office at Central Asset Investments)
"Feel a bit uncomfortable" after some tech stocks jumps too quickly; bull market "is not yet over" from fundamental perspective 
Believes funds will continue to flow into the region's emerging markets as China's de-leveraging and rebalancing progress will continue to support investor confidence
Tencent, heavily weighted in the Asia benchmark, keep a strong growth in revenue; Samsung shares also have upside given "cheap" valuation  
Nicholas Teo (trading strategist at KGI Securities)
Now is the time to take some profit off the table as valuations are stretched
Expects to see more global funds holding underweight positions in Asian stocks
Says "am actually negative in 2018"
Olivier d'Assier (head of applied research at Axioma Asia Pte)
New high has been hit as they have elsewhere
"You need to partly ask yourself where do you find value when there is new high everywhere?"
Very close to "irrational exuberance" that then-Fed Chairman Alan Greenspan talked about in mid-1990s
— With assistance by Vivek Shankar, Abhishek Vishnoi, Fox Hu, Moxy Ying, Ian C Sayson, Min Jeong Lee, Lilian Karunungan, Lianting Tu, and Jeanny Yu
Quotes from this Article
Before it's here, it's on the Bloomberg Terminal.
LEARN MORE