Trump Barbs on AT&T-Time Warner Deal Could Fuel Company Defense
By
President says on Tuesday deal 'not good for the country'

He's also repeatedly criticized CNN since taking office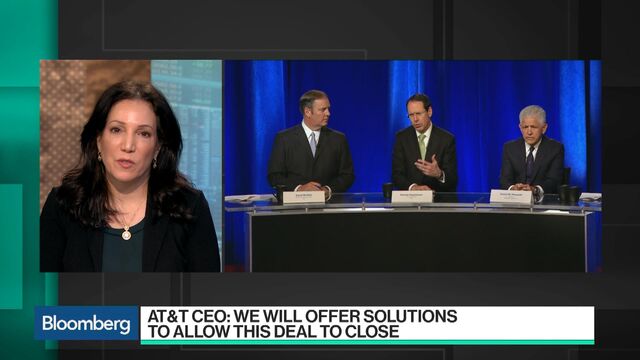 President Donald Trump said AT&T Inc.'s merger with Time Warner Inc. would be "not good for the country" on Tuesday, a statement that could raise further questions about whether he's exerted undue political influence on the Justice Department to block the deal.
Trump's comments on Tuesday amounted to the most explicit description yet of his opinion of the $85 billion merger, which the Justice Department said in a lawsuit Monday would lead to higher bills for consumers and less innovation in the industry.
"I'm not going to get involved in litigation but personally I've always felt that was a deal that was not good for the country," Trump told reporters as he departed the White House for his Mar-a-Lago resort in Palm Beach, Florida. "I think your pricing's going to go up -- I don't think it is a good deal for the country. But I'm not going to get involved, it's litigation."
Thus far, Trump's comments had been mainly limited to criticism of Time Warner subsidiary CNN, which he's blasted in about two dozen tweets, speeches and news conferences. "Fake news and garbage journalism," he's called it. "The enemy of the American people." "Fraud," "fiction," and full of "phony stories."
The attacks are proven red meat for the president's base and have provided Trump, whose party controls every branch of the federal government, a convenient foil during his turbulent first year in office.
Lawyers representing the telecommunications and media giants seem certain to argue that the president's public comments about the deal and tweets about CNN, the crown jewel of Time Warner's cable empire, amount to undue political influence on the Justice Department. Trump also said as a presidential candidate in October 2016 that his administration would never approve the deal.
Legal Precedent
Trump's tweets already have provided fodder for legal challenges to other administration actions. Federal judges or adversarial attorneys cited his tweets in decisions or arguments to block his travel ban against predominantly Muslim nations, his proposed ban on transgender military service members, and his decision to end a program protecting people who entered the country illegally as children from deportation.
AT&T Lawsuit Over Time Warner Shows Tough Turn on Antitrust
The two companies' lawyers may argue that the decision to block the agreement was not motivated by concern about AT&T-owned DirecTV accruing an unfair advantage over competitors, as the government claims, but instead by the president's desire to get back at a news organization whose coverage he regards as unfair. That case could be bolstered by Justice Department officials' suggestion that AT&T explore alternatives including selling Turner, the branch of Time Warner that runs CNN and TBS, among other channels in order to win approval for the deal, according to two people familiar with the matter.
AT&T Chief Executive Officer Randall Stephenson has denied the Justice Department told him the price of getting the deal approved would be selling CNN, and said AT&T isn't considering it. But on a call Monday, Stephenson called the president's public criticism of the network "the elephant in the room."
"Nobody should be surprised that the question keeps coming up, because we've witnessed such an abrupt change in the application of antitrust law here," Stephenson said, adding that he didn't know whether the Justice Department action was motivated by the president.
For a QuickTake explainer on the new technology monopolies, click here.
Legal experts -- including allies of the president -- have warned that his penchant for social media is likely to continue to fuel legal challenges. George Conway, husband of senior White House aide Kellyanne Conway and a lawyer at the New York firm Wachtell, Lipton, Rosen & Katz, said during the travel ban fight in June that the president's tweets might make some people "feel better" but they "certainly won't help" the government with "what actually matters" -- prevailing at the Supreme Court.
No Role
A Justice Department official who asked not to be named said that the White House had no role in the decision to file the lawsuit and that the president's public statements about the merger or about CNN weren't a factor either. The lawsuit was a law enforcement decision based on facts and the law, and the government will have to prove its case to the judge, the person said.
The president himself has insisted that he was not involved in the Justice Department review of the deal, telling reporters during his recent trip to Asia that the process was being undertaken not by him, but "a man who's actually a very respected person."
White House officials also argue they've created distance from the review process to avoid any accusations of politicizing the process.
"The President did not speak with the Attorney General about this matter, and no White House official was authorized to speak with the Department of Justice on this matter," spokeswoman Lindsay Walters said in a statement.
Still, Trump has made his position on the AT&T-Time Warner tie-up well known.
'Maybe Litigation'
Trump said in a speech last October while on the campaign trail in Pennsylvania that his administration would not approve the merger "because it's too much concentration of power in the hands of too few." The deal, he added, was "an example of the power structure I am fighting."
Even after the election as he prepared for his inauguration, Trump told a confidant that he remained opposed the merger.
He reiterated his position earlier this month.
"I do feel that you should have as many news outlets as you can, especially since so many of them are fake," he told reporters. "This way, at least you can get your word out."
But Trump underscored that he voiced that opinion "at the very early part" of the process, "long before" assuming the presidency, in what appeared to be an effort to defuse suggestions he had influenced his administration's review of the merger.
"It will probably end up being maybe litigation, maybe not," Trump said. "We'll see how it all plays out."
Prior to the Justice Department's lawsuit, Trump's White House was friendly toward telecom companies -- including AT&T. On January 12, Stephenson and Robert Quinn, AT&T's chief of legislative affairs, met in New York with President-elect Trump for more than an hour.
Stephenson's visit to Trump's New York office building was among several by business leaders looking for some time with the nation's newly elected President. AT&T said the Time Warner deal was not discussed at the meeting.
In June, Trump hosted a meeting with two dozen tech executives and venture capital firms. Stephenson was at the meeting and received a verbal back-pat during the few minutes when press and TV cameras were allowed in. Trump told Stephenson that he was doing "really a top job." Sprint Corp. Chief Executive Officer Marcelo Claure was also at the session.
— With assistance by David McLaughlin, and Scott Moritz
Before it's here, it's on the Bloomberg Terminal.
LEARN MORE