Finance
This Robot Said to Sell Facebook. Next Time It May Be Right
In a step toward replacing Wall Street analysts, Wells Fargo's Ken Sena has trained his Aiera bot to read millions of news stories and make calls on stocks.
By and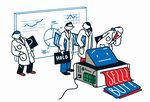 On Oct. 6 a note from Wells Fargo & Co.'s equity research department downgraded Facebook Inc. to sell, making it one of only three brokerages with such a dour rating. The analyst making the call was unusual, too. Its name is Aiera, or artificially intelligent equity research analyst.
Aiera is the creation of Ken Sena, a veteran internet analyst at Wells Fargo, who describes it as a self-learning program that can do some parts of his job better than he can. Aiera had read thousands of stories about Russian-linked ads on Facebook during last year's U.S. presidential election. Politicians were up in arms, and Congress called for hearings. Aiera's algorithms picked up on the bad vibe and thought it could trigger other investors to sell. The rating was a little awkward for Wells Fargo. Sena himself, based on his own research, was recommending the stock with an outperform rating.
"To suddenly put out a call by Aiera showing a sell, we had to be prepared to respond to that with clients," says Sena, who built Aiera with Bryan Healey, director of AI at a startup called Lola who previously worked on Amazon.com Inc.'s Alexa digital assistant. "We were a little bit by the seat of our pants in terms of releasing this information."
It's worth mentioning that the Facebook call proved a dud. The stock rose, and some investors dismissed the technology. "That was a disappointment," says Sena. Even so, he thinks Aiera is a warning to investment firms and banks that they can't ignore the artificial intelligence systems already being exploited by the likes of Amazon and Google. The technology is coming, and companies and analysts will be better off if they start experimenting and learning from it—even if automation could destroy some lucrative Wall Street jobs. "There are probably going to be people who find themselves training machine learning technologies that may take their job away," says Richard Johnson of research company Greenwich Associates, who has studied the impact of AI on Wall Street.
AI is new to equity research shops such as Wells Fargo's, but not to finance. Many hedge funds use machine learning programs to sort through reams of market data, constructing portfolios designed to take advantage of the statistical trends they detect. Banks' research and sales departments still rely mainly on human judgment. Analysts produce buy, sell, and hold recommendations on specific stocks, create reports used by clients looking for fresh insights, and often inform their thinking with access to corporate executives. It's squishier and in some ways more difficult than running a quant fund. Morgan Stanley just started using AI to scour data during earnings season, and there are startups helping banks automatically turn data into trading ideas. But Wells Fargo is the first major bank to use the techniques to make public recommendations.
Aiera was born after Sena met Healey through a machine learning conference Sena organized in 2016. The two hit it off, and Healey started advising Sena on AI, helping the analyst brief investors on the technology. Machine learning lets software adapt to new data without human programmers. As Sena and Healey delved deeper into the field, a question bubbled up. "I asked the question, well, can you automate what I do?" Sena says. "And Bryan said, well, you have to explain to me what you do."
The system piggybacks on the thinking of countless humans. It scours the internet for stories, earnings reports, social media posts, and analyst research on more than 500 stocks and uses tools such as natural language understanding to turn the words into a measurement of sentiment. "Fear," "anger," "joy," "sadness," and "surprise" are combined into an overall sentiment score. Aiera then monitors the market to see if the emotions it identified move stock prices. If there's a correlation, it stores that and uses it to make predictions and churns out one-paragraph summaries of the most relevant information for each stock.
Aiera's recommendations are for short-term periods. As of early November, calls it made for an eight-hour period had an overall accuracy rate of 88 percent, while 58 percent of its recommendations for eight days worked out, according to Sena. The eight-hour calls do best because there have been so many more of them to feed back into the learning algorithm. Most of those recommendations are holds, which work out well partly because nothing much happens to a stock in a few hours.
"Machine learning in finance is a tough slog," says Vasant Dhar, a professor at New York University who's run an AI-powered hedge fund for almost a decade. "It's easy to fool yourself about how these things work."
The Facebook sell call had one virtue: It showed Aiera is willing to be negative. Human analysts may think twice before highlighting bad news and calling to sell because they want to preserve access to executives. Sena says people should pay attention to the fact that "you had an unbiased participant—even if an artificial intelligence was behind it—coming out and saying, look, this is relevant."
When Sena described the plan to publish Aiera's calls to Wells Fargo's compliance department, the only relevant regulations it could find had to do with robo-advisers that do automatic asset allocation. Those are supposed to tell clients when they make important changes to their algorithms. The trouble is Aiera is designed to change constantly as new data flow through the system. The solution was to include a boldfaced disclaimer in every report stressing that the system's ratings weren't investment advice and should be read only to gain a greater understanding of AI. That disclaimer has crept higher with each note. Turning Aiera into a real financial product will require additional work by Wells Fargo and more relevant guidance from regulators, Sena says.
Other analysts at Wells Fargo aren't as enthusiastic as Sena about Aiera. Mike Mayo, a well-known bank-stock analyst at the firm, wants to use it to enhance his research, but he won't let it publish stock ratings on his companies. "As far as having an Aibra, an artificially intelligent bank research analyst, I don't think that's happening in the next decade," he says. Analysts lower on the totem pole may have more to fear: Mayo says banks are in cost-cutting mode and are looking at AI.
Mayo's junior associate analyst spends about three-quarters of his time checking news articles, gathering other information, and manipulating data—all tasks AI can automate. It's more than half of the time for more midlevel associates and about one-third of a senior analyst's day, Mayo reckons.
"Maybe you don't need 50 junior analysts scouring through filings and stories," says Johnson of Greenwich Associates. He estimates 15 percent of finance jobs are at risk from AI automation, with research among the most exposed. Banks will likely deploy machine learning to cover smaller, less-followed companies, without hiring staff. But that also points to how long a way Aiera still has to go. Some of its reports include odd sentences about other companies, as well as clichéd, generic investment advice. That happens mostly when there's not much news about a company—the very stocks Johnson thinks would benefit from automated coverage.
BOTTOM LINE -
An analyst on Wells Fargo's stock research team is experimenting with machine learning tools that could one day replace a lot of well-paid human work.
Before it's here, it's on the Bloomberg Terminal.
LEARN MORE