Politics
Sudan Sanctions Enriched the Powerful at the Expense of the Weak
Private hospitals were able to evade scrutiny and score contracts that benefited the nation's elite.
By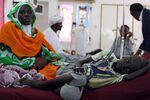 Twenty years ago, the U.S. imposed a strict trade embargo against Sudan. The East African country served as a safe haven for Osama bin Laden, who lived there for five years before being expelled in 1996. In 2009, President Omar al Bashir became the first sitting head of state to be indicted by the International Criminal Court, for atrocities committed in Darfur—where the United Nations says up to 300,000 people may have died and millions been displaced since 2003—ensuring sanctions remained in place long after the country turned its back on extremists.
Now, after two decades of economic isolation, Sudan is being allowed to rejoin the world economy. On Oct. 6, the Trump administration announced it was ending U.S. sanctions against Sudan, a policy change that the Obama administration recommended in its last days in office. Citing Sudan's cooperation in combating terrorism and ending internal conflicts, the current administration hopes that a normalization of ties will encourage further reforms. Since then, the State Department has raised the possibility of removing the country from its list of state sponsors of terrorism, although to do so it would have to get past a long-standing, bipartisan caucus in Congress that has advocated a hard-line stance toward Khartoum.
The sanctions had mixed results. While they curtailed the regime's support for terrorism, they largely failed in their other objective: to punish and isolate the country's elites, who were responsible for human rights abuses. 
Blanket trade embargoes are often criticized as a crude policy tool that fails to hurt those in power while inflicting hardship on ordinary citizens. That's certainly what happened in Sudan. The sanctions targeted many government-funded agencies that provided essential public services, such as Sudan's Railway Corporation, the National Electricity Corporation, the Post and Telegraphs Public Corporation, and the Sudan Cotton Company.
At the same time, members of the ruling party or security apparatus created private companies that found ways to skirt the sanctions. With preferential access to hard currency, tax breaks, and contracts, these companies elbowed small and medium-size companies to the fringes of the economy, widening income disparities and pushing more Sudanese into poverty. "The government and the targeted entities were able to maneuver and to go around" the sanctions, says Dr. Sabir Hassan, a Sudanese economist who has served as the governor of Sudan's central bank. "But the small guys and businesses, they don't know how to maneuver."
The health sector offers a stark example. Sanctions made it difficult or impossible for Sudan's main cancer hospital, the Radiation and Isotopes Centre Khartoum (RICK), to procure spare parts to repair radiation equipment, most of which were made in the U.S. or Europe. Although deals involving medical devices were exempt from the sanctions, managers of hospitals such as RICK say they've struggled to obtain the necessary licenses from the Office of Foreign Assets Control (OFAC) at the U.S. Treasury. This forced them to turn to unofficial agents, who charged hefty fees. "We have to go through a lot of intermediaries," says El Tayeb Wagiallah, RICK's deputy director general. "This will cost us not just money but also time. It takes months to bring the spare parts, and in the meantime people are dying." 

Since the sanctions were imposed, private hospitals, many owned by members of the military, police, national security, and the ruling National Congress party, have sprung up across the capital city of Khartoum. According to interviews with dozens of doctors, hospital managers, patients, and suppliers, these institutions provide not only privileged access to health care for Sudan's elites but also a source of revenue to its owners. As private actors, and thus away from the scrutiny imposed on state-owned enterprises, regime loyalists have been able to import medical equipment from Western companies such as General Electric, Elekta, and Philips, all with licenses granted by OFAC. 
Brian O'Toole, who until recently worked as an adviser at OFAC, says the office lacks the resources to prevent licenses from benefiting the wrong people. "It's hard for OFAC to keep up because it's easy to form these companies," he says. In 2016, OFAC received 10,000 license applications, but it had only about 30 people available to process them. "There just aren't enough people there to do this," says O'Toole, now a senior nonresident fellow at the Atlantic Council. 
When considering a license, O'Toole says, OFAC seeks to make sure the license beneficiaries have no links to the Specially Designated Nationals and Blocked Persons list (SDN), a ledger of thousands of individuals and companies owned or controlled by targeted countries. Until sanctions were lifted in October, the list included more than 200 Sudanese entities. But sources familiar with business in Sudan say that many of the companies on the list were no longer active, a sign that OFAC struggled to keep the SDN up to date. Making sure the sanctions are being enforced properly "is a bit of a Whac-a-Mole game," O'Toole says. 
The Treasury Dept. has "procedures in place to review and consider license requests before making a determination to authorize otherwise prohibited transactions," according to a spokesman, who refused to comment on specific licenses. 
Moreover, Sudan wasn't a high priority for the U.S. when it came to enforcing sanctions, says Richard Nephew, a senior research scholar at Columbia University. "North Korea and Iran tend to get a bit more attention because they are bigger issues," he says. "That also directly relates to how many SDN updates you are going to get." 
Publicly available data show that between 2000 and 2011, the U.S. Treasury granted at least 81 OFAC licenses to 14 American and European health-care companies to deliver medical appliances to Sudan. In response to a January 2017 Freedom of Information Act request for the names of the hospitals that were party to these transactions, the Treasury said such details couldn't be released without the licensee's permission because they could cause competitive harm. 
 Without this data, it's difficult to determine how many of these licenses benefited institutions linked to Sudan's ruling elites, but documents obtained by Bloomberg indicate it was not uncommon. In 2008, according to one document, GE Healthcare was granted a license to supply Al Amal Hospital, which is owned by Sudan's spy agency, the National Intelligence and Security Services (NISS), according to media reports and confirmed by two distributors who supply the hospital. The same year, GE Healthcare obtained a license to supply the National Fund for the Promotion of Medical Services, an entity run by the Ministry of Defense. Dutch company Philips provided Al Amal Hospital with radiology equipment. A spokesperson for Philips confirmed the transaction, adding that the deal was executed "under the appropriate license and due diligence process" and that Philips wasn't "aware of an alleged association of this hospital with Sudan's National Intelligence and Security Services at the time."
A striking example of OFAC's lapses in Sudan is the brand-new Universal Hospital, a gleaming, six-story facility recently completed on the banks of the Nile River in the Khartoum-north neighborhood. Complete with marble floors, the hospital is owned by a joint Turkish and Sudanese venture managed by retired members of NISS, according to suppliers and a Khartoum state ministry of health official. A technical review of the bid to supply oncology equipment to the new hospital lists El Rasheed Osman and Abdelgadir Yousuf, both retired NISS officers, as members of the board of directors. 

Another document obtained by Bloomberg shows that GE Healthcare made an offer in March 2016 to supply $25 million worth of MRIs, CTs, and other equipment to Universal Hospital. GE didn't respond when asked whether it was aware of the hospital's links to Sudan's ruling elite. A GE spokesperson says the transactions were approved by the U.S. government and reflect "long-standing U.S. policy to support humanitarian exports consistent with the fundamental international principle that all people—including those in countries subject to U.S. sanctions—should have access to health care."
Elekta, a Swedish manufacturer of medical equipment, also signed a contract to supply radiotherapy equipment for Universal Hospital's oncology department. In an email, an Elekta spokesperson confirmed that the company had received two OFAC licenses to supply Universal Hospital and said it was unaware of the hospital's association with NISS.
The Minister of Health for the State of Khartoum, Mamoun Homeida, a senior member of the ruling party, owns another facility called Al Zeytuna Specialized Hospital that has been equipped with top-notch Japanese and Swiss equipment. Staff confirmed during a visit in December 2016 that the hospital was paid to handle diagnostic services for nearby public hospitals that lacked the necessary equipment. Thus the Minister of Health is effectively benefiting from the decline of public health care. Homeida didn't reply to requests for comment.
Doctors at several public hospitals say they have insufficient funds to pay operating costs and competitive doctor salaries, a common complaint in a country where an estimated 70 percent of the state budget is spent on security.  "The gap between public and private hospitals is getting bigger," says Dr. Ali Arabi, who runs Jafaar Ibn Ouf, a public children's hospital in Khartoum littered with broken-down Western equipment. Unable to get replacement parts and frustrated with cheap and malfunction-prone Chinese alternatives, the hospital subcontracted its diagnostic services to better equipped and more expensive private institutions like Al Zeytuna.
The U.S. has abandoned blanket trade embargoes in favor of more narrowly targeted sanctions, such as the ones it used in South Sudan, where the U.S. sanctioned three current and former government officials accused of atrocities and corruption. The State Department has threatened to deploy such measures against Sudanese entities if the country backtracks on the progress it has made. Analysts such as O'Toole and Nephew say this would require more effort to monitor targets' business activities, something OFAC can't do with its current level of resources.
This article was reported in partnership with The Investigative Fund at the Nation Institute, with support from the H.D. Lloyd Fund for Investigative Journalism.
(
Corrects credit to include support from the H.D. Lloyd Fund for Investigative Journalism. 
)
Before it's here, it's on the Bloomberg Terminal.
LEARN MORE