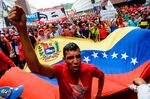 Let's be clear about something: Venezuela complies with its OPEC production target the way I "comply" with my employer's demand that I show up most days.
So when OPEC's data show Venezuela's compliance was at 218 percent of its target in October, do not interpret this as an excess of zeal:

In reality, Venezuela's production is collapsing as its economy seizes up and its government and national oil company pitch into a byzantine debt default, compounding the misery of the country's suffering population.
It is, however, helpful for that oil-exporting organization Venezuela co-founded in 1960.
OPEC meets next week, and, as I wrote here, expectations for it are high. The usual pre-meeting noise is building, centered mainly on whether the group, along with key associate Russia, will extend its supply cuts beyond March. In reality, it must, if it is to avoid a year-end sell-off of its favorite product. Yet, as usual, not all members are keen to carry their share of the burden; and Moscow, in particular, faces growing tension with the country's oil producers the longer cuts stay in place.
Consider October. The other 11 OPEC members subject to supply targets -- including Iran, which actually was allowed a small increase -- are collectively supposed to be producing about 1.08 million barrels a day less than the baseline level established last year. Last month, their effective cut was 1.01 million barrels a day, according to secondary sources cited by OPEC, resulting in overall compliance for this group of 94 percent. Venezuela's, er, diligence took that to 104 percent.
But Venezuela's importance is actually bigger than that, because two strife-torn OPEC members, Libya and Nigeria, aren't subject to supply cuts as yet. Their aggregate production in October was almost 550,000 barrels a day higher than a year ago. As a whole, therefore, OPEC's net supply was down by only about 676,000 barrels a day last month relative to its baseline -- and Venezuela's drop of 207,000 barrels accounted for almost a third of that.
And Venezuela's importance is growing as it shrinks.
Exactly how much oil the country produces isn't crystal clear. Caracas says 1.96 million barrels a day, as of October, while OPEC says 1.86 million, the International Energy Agency says 1.91 million and Bloomberg says 1.95 million. What is clear is that output is dropping at an alarming rate: roughly 10 percent, year over year. Francisco Monaldi, a fellow in Latin American energy policy at Rice University's Baker Institute for Public Policy, reckons that pace could continue into 2018.
Assume that's the case. Extrapolating from OPEC's, the IEA's and Bloomberg's figures, Venezuela's production would drop to around 1.7 million barrels a day by the fourth quarter of 2018:

Under this scenario, and assuming it doesn't get a waiver in the meantime, Venezuela's compliance with its OPEC target would leap to 400 percent this time next year, which would surely be deserving of some sort of Viennese award ceremony.
Think of it this way. As of October, seven of the other 11 OPEC members subject to production adjustments weren't complying fully, producing 171,000 barrels a day more than they should be. Venezuela, on the other hand, produced 112,000 barrels a day less than it should have. In other words, it provided room for two out of every three of those excess barrels being produced by the less-diligent members (Saudi Arabia, Algeria and Kuwait also effectively made room).
So now think about how much extra room Venezuela might create in 2018. This chart shows how much its output would drop below its OPEC baseline, using the projections above:

Using OPEC's numbers, Venezuela's continued decline could allow the other 11 countries to collectively run at only 71 percent compliance by this time next year and still meet the overall target. Slow the pace of decline to 5 percent, and the others would still get away with compliance of just 80 percent by the end of 2018, based on these projections. Conversely, Russia might benefit from some of that extra space.
Painful as it is, Venezuela's distress aids OPEC's mission. The less oil the country produces, the smoother the process of keeping everyone else on board -- more or less.
Before it's here, it's on the Bloomberg Terminal.
LEARN MORE