Mexican Counteroffer Marks Tit-for-Tat Turn in Nafta Talks
By , , and
Mexico proposes limiting access to government contracts

U.S. has proposed its own curbs on procurement market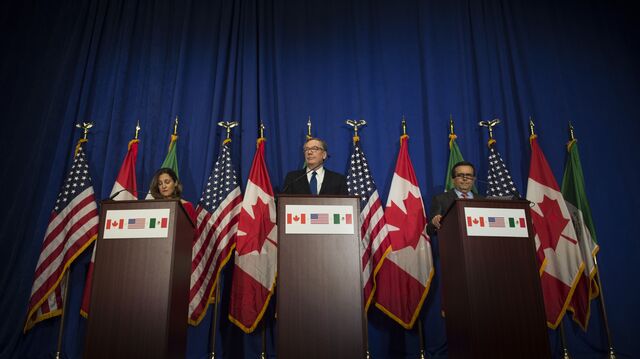 Mexico is proposing to limit access to government contracts for U.S. firms in a sign that America's Nafta partners are willing to strike back against what they see as hardline proposals by the Trump administration.
Mexican negotiators are seeking to cap the value of procurement-tenders awarded to American companies to the same amount that Mexican firms get in the U.S. Since American firms do more procurement business in Mexico than vice versa, it would mean less business for U.S. companies, said a person familiar with discussions who spoke on condition of anonymity.
While there were some signs of progress on lower-level issues that sparked a rally in the peso Tuesday, the contracts counter-proposal underscores the magnitude of the differences between the sides on many major sticking points. The U.S. had earlier proposed curbing Mexico's and Canada's access to its government projects. A fifth round of Nafta talks ends Tuesday in Mexico City.
It's an omen that negotiations may be entering a tit-for-tat phase, throwing into doubt the ability of the three countries to seal a quick deal. U.S. business groups have warned that America's trade partners may retaliate against the Trump administration's aggressive position on everything from regional content rules for cars to dispute settlement.
The U.S. is frustrated with the reluctance of Canada and Mexico to present counter-proposals on key issues such as so-called rules of origin, which could make or break a deal. Mexico and Canada continue to portray the U.S. demands as unworkable, and are holding out hope the Trump administration will bow to pressure from U.S. lawmakers and corporations to keep core elements of the deal alive.
Some investors were heartened by the incremental progress on less contentious issues. The peso rose in line with emerging-market peers after the head of Mexico's business chamber said the nations are close to finishing work on chapters on telecom, energy, and digital commerce.
Technocratic Calm
There has been an air of technocratic calm to the talks this week in Mexico City as bureaucrats plug away at less explosive issues. Trade chiefs from the three countries aren't attending this round, which has dialed down rhetoric on the ground, but also left a political void for overcoming some of the sticking points. The sprint for a U.S. tax overhaul this year has overtaken the agenda in Washington, diverting some attention from Nafta.
Yet there's still no clear path to a deal on a successor to the North American Free Trade Agreement, which governs more than $1 trillion in trade and underpins the supply chains of companies from General Motors Co. to Caterpillar Inc. President Donald Trump has repeatedly threatened to pull out of the deal if the U.S. doesn't get what it wants, and American officials want to get an agreement by next March, before a general election in Mexico and congressional midterm elections in the U.S. inject even more politics.
"None of the big divisive issues have seen forward motion. They really need to be much further along than this, and I'm concerned that this negotiation is on the verge of stalling out," said former Republican Congressman Philip English, now a senior government-relations adviser at law firm Arent Fox in Washington. The deadlock raises the probability that Trump will follow through on his threat to pull out of the deal, English said.
Unique Thinking
The fifth round of talks has largely avoided the most divisive U.S. proposals on dairy, automotive content, dispute panels, government procurement, and a sunset clause. Negotiators plan to meet next month in the U.S., before convening again in Canada in late January.
Negotiators also spent much of their time in the fifth round on rules of origin, which govern how much of a product must be produced in North America to trade without tariffs, though discussions on that centered on mundane details such as paperwork requirements.
The White House has proposed major changes to Nafta's auto requirements, introducing a stipulation that 50 percent of parts or vehicles be U.S.-made, and increasing the minimum amount of regional content needed to 85 percent from 62.5 percent.
Mexican Economy Minister Ildefonso Guajardo said last week that Mexican negotiators planned to ask the U.S. for a more detailed explanation of the autos proposal and the reasons for it, but didn't yet plan to present a counteroffer. A person familiar with discussions said Mexico views the U.S. position as completely unworkable.
Canada was expected to respond to the U.S. auto proposal this round by detailing why it thinks implementing the plans would harm the sector, without formally proposing a counteroffer, one Canadian official said.
"The U.S. has put some extremely unique proposals on the table and many of those are and will remain problematic for Canada and Mexico," said Robert Holleyman, who was a deputy U.S. trade representative in the Obama administration. "We have a long way to go before we're able to say there are insurmountable barriers, although it's very choppy waters."
Before it's here, it's on the Bloomberg Terminal.
LEARN MORE