Lockheed Praised at Pentagon for Naval Ballistic-Missile Defense
By
Contractor performing well on Aegis system, agency head says

Praise amid questions on latest F-35 glitch, GPS III delays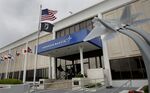 Lockheed Martin Corp. may be taking heat at the Pentagon over glitches and delays in other billion-dollar programs, but its performance on the U.S.'s primary naval missile-defense program is winning praise behind the scenes.
Lockheed, the No. 1 U.S. defense contractor, has performed "very well" in managing cost, schedule and performance for both the current and improved versions of its Aegis system that's intended to shoot down ballistic missiles, Air Force Lieutenant General Sam Greaves, director of the Missile Defense Agency, wrote in a memo for Pentagon acquisition officials before they met this month with Lockheed executives.
The ballistic-missile defense version of the Aegis program is one of the Pentagon's most important because it gives some front-line Navy warships the capability to intercept short- and intermediate-range ballistic missiles -- like those North Korea can fire at Japan and Guam -- although it can only target them after the initial launch phase.
Lockheed "continues to demonstrate adherence to a disciplined engineering process that fully supports all aspects of concept development, system-level trade analysis, requirements definition, system development, integration and test, system performance verification and at-sea testing," Greaves wrote in the memo labeled "For Official Use Only."
F-35, GPS Troubles
It was an upbeat assessment ahead of a Nov. 6 meeting where Ellen Lord, the Pentagon's undersecretary for acquisition, spoke with top Lockheed officials, including Chief Executive Officer Marillyn Hewson. Beforehand, Lord also was alerted to less optimistic appraisals on Lockheed projects, including a problem with a primer that's supposed to prevent corrosion of aluminum fasteners on the F-35 fighter and the continuing delivery delays on new Global Positioning System satellites that are now estimated to be running 19 months late in some cases.
The Missile Defense Agency's positive review of the Aegis system also applied to a new land-based model that's now operating in Romania and may be deployed next year in Poland.
Greaves' agency requested $2.1 billion this year for Aegis missile-defense procurement and research, and plans to seek an additional $6.3 billion through 2022, according to its budget submission. The Pentagon has proposed increasing the number of Navy Aegis ships with ballistic-missile defense capabilities to 36 by Sept. 30, 2018, from 33 today and to 51 by the end of fiscal 2022. In addition to making the Aegis system, Lockheed is also the prime contractor that installs and supports it.
The Missile Defense Agency's assessment vouching for Lockheed's performance on Aegis may also help the company's overseas sales. Among allied navies that now operate Aegis-equipped ships, including those with missile-defense capability, or are planning to do so are those of Japan, South Korea, Australia, Spain, and Norway, according to the Congressional Research Service.
While praising Lockheed's overall performance on the Aegis program, Greaves said the company "should consider streamlining its management structure to focus resources on development and delivery of quality products." He said his agency "is concerned with the trend" in recent Aegis development showing a 14 percent increase in program management costs.
Lockheed Martin spokesman Keith Little said in an email that "we don't comment on leaked memos."
Before it's here, it's on the Bloomberg Terminal.
LEARN MORE