Turkey Lifts Bank-Funding Cost as Lira Drops to All-Time Low
By and
Central bank tightens liquidity by cutting overnight funding

Scenario building for an emergency rate meeting, BlueBay says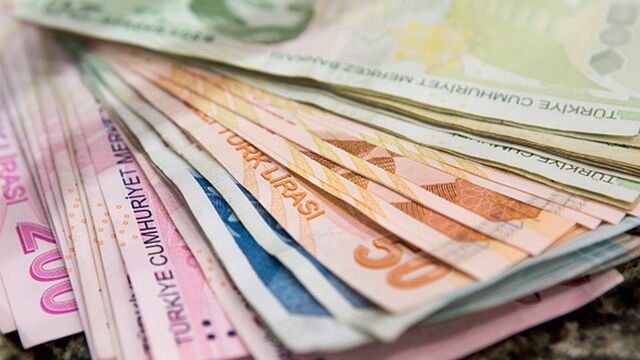 The Turkish lira weakened to a record low and bonds tumbled, pressuring policy makers to find ways of staunching a market rout that's putting them at odds with President Recep Tayyip Erdogan.
The currency dropped as much as 1.2 percent against the dollar before recouping some losses after the central bank pushed lenders to use a window that makes borrowing more expensive from Wednesday. The move effectively amounted to a 25 basis-point interest rate increase and came a few hours before the Treasury sold five-year bonds.
The turmoil brings into focus the conundrum facing policy makers led by central bank Governor Murat Cetinkaya, who's being pushed by markets to raise rates even as Erdogan urges him to lower them. The president said last week the bank was on the "wrong path" in using high interest rates to tackle inflation, an argument based on an unconventional view of economics that sees higher interest rates as a cause of inflation, rather than as a tool to control it.

That argument was seconded by Cemil Ertem, one of Erdogan's chief advisers, in a column in Milliyet newspaper on Tuesday. In economies like Turkey's, where the biggest contributor to cost inflation is interest charges, trying to curb price pressures with higher interest rates is "like throwing gasoline on the fire," he wrote.
Investors Unimpressed
Facing political pressure to keep rates low to boost growth, Cetinkaya has held formal borrowing costs unchanged since May even as inflation accelerated to 11.9 percent in October, the highest since 2008. His intervention on Tuesday got low marks from investors.
"A complete joke -- like 25 basis points will make any difference," said Timothy Ash, a strategist at BlueBay Asset Management LLP in London. "They are now limping to the next monetary policy committee meeting, which is weeks away and likely will have to have another late night, emergency MPC meeting before then to get the green light from Erdogan for a more substantive rate hike."
The currency traded 0.5 percent lower at 3.9502 per dollar as of 3:40 p.m. in Istanbul. The yield on the nation's benchmark 10-year bonds climbed 20 basis points to 13.10 percent, after touching a record 13.16 percent. Banking stocks, which had dropped as much as 1.5 percent on the day, reversed losses to gain 0.6 percent.
The government sold 1.6 billion liras ($405 million) of five-year debt, with the average yield at the competitive action climbing to 13.82 percent from 11.92 percent at the previous auction in October. The sale takes the total amount raised this month to 4.7 billion liras, short of the Treasury's 6.2 billion lira target for the month.
The central bank will probably need to raise interest rates by 150-200 basis points to make a difference, and so the lira will remain exposed until the central bank meets again on Dec. 14, according to Kiran Kowshik, a strategist at UniCredit SpA in London.
"Unless the CBRT steps to the plate now, we believe further lira weakness is highly likely," he said.
Western Ties
Turkey's market turmoil comes as investors brace for revelations from the trial of a Turkish-Iranian gold trader named Reza Zarrab, who's accused of conspiring with Turkish government officials and executives at a state bank to evade U.S. sanctions on Iran. The trial is scheduled to start on Nov. 27 in New York, and speculation is mounting that Zarrab may have turned witness for the U.S. government.
That case has heightened tensions with the West at one of the worst moments in Turkey's history, with officials characterizing the U.S. charges as an attack on the domestic economy. Those who failed to overthrow the government in a coup attempt last year are now "setting traps for a series of economic sanctions against Turkey," government spokesman and Deputy Prime Minister Bekir Bozdag said at a press conference following a cabinet meeting on Monday.
"The deteriorating inflation outlook, widening current-account deficit and diplomatic risks from ongoing lawsuits in the U.S. necessitate interest-rate tightening," said Gokce Celik, an economist at QNB Finansbank in Istanbul. "The interest rate compensation should be significantly higher than today's 25 basis-point move."
Anyone investing in Turkish lira would be betting that the central bank will resist political pressure, according to Anders Faergemann, a money manager at Pinebridge Investments Europe Ltd.
"Whoever is left holding onto the Turkish lira at the current levels is hoping the central bank will go against President Erdogan's calls for lower interest rates and provide another massive rate hike to bolster the exchange rate," he said.
Before it's here, it's on the Bloomberg Terminal.
LEARN MORE