Commodities Facing Another Tough Year in 2018, JPMorgan Says
By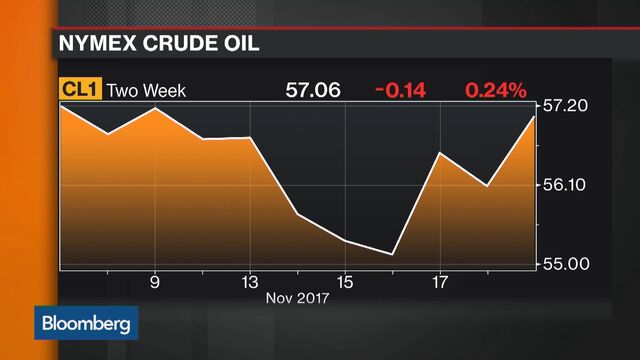 Overall commodity returns have been lackluster this year, and face more poor performance in 2018, according to JPMorgan Chase & Co.
To make money, traders will need to pick assets, such as agriculture, and play short-term trends to take advantage of price swings, rather than buying and holding a broad basket of commodities, wrote analysts including John Normand in the bank's outlook for 2018.
The Bloomberg Commodity Spot Index, a measure of performance that doesn't account for rolling futures contracts, is up 5 percent in 2017 -- trailing returns in global equities.

JPMorgan's forecasts for 2018 include:
Oil
Oil markets will stay balanced in 2018 due to extended OPEC-Russia production cuts. Brent crude will trade in the high $50 a barrel range.
"Aside from a revival in shale efficiency, the main downside risk is for an early and disorderly end to OPEC-Russia price support, potentially as producers refocus on market share"
Metals

JPMorgan recommends going long on aluminum. Copper and nickel supply will increase next year, leading to lower prices. 
Copper will average $5,700 a metric down in the fourth quarter of 2018, compared with a current price of $6,900.
Precious metals will be stable through mid-year and then move higher because of worries about a slowdown in economic growth. Gold will average $1,350 an ounce in the fourth quarter.
Agriculture
After a poor showing this year, agriculture could do well in 2018. JPMorgan says go long on Kansas wheat and sugar.
"The consumption-led recovery in Brazil should be supportive of feed grain and sugar demand in the leading agri exporter through 2018" 
Markets that are most likely to tighten include:

Cotton on strong consumption and Chinese imports
Corn because it's most susceptible to production problems related to La Nina
Quotes from this Article
Before it's here, it's on the Bloomberg Terminal.
LEARN MORE