Politics
How a Clever Case Could Kill the AT&T-Time Warner Deal
Earlier statements may come back to haunt the companies, and doom their $85 billion merger.
By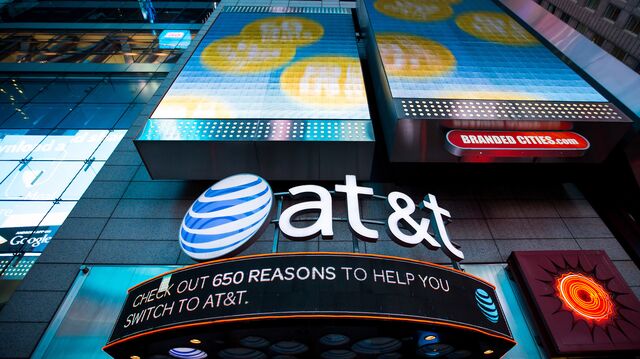 The Justice Department is citing some surprising authorities in its lawsuit to stop AT&T Inc. from buying Time Warner Inc.—namely the companies themselves. Time and again, the complaint quotes from statements and filings by AT&T and Time Warner to make the government's case that the $85 billion merger would be bad for customers.
The problem for the would-be merger partners is that government lawyers judiciously picked out earlier utterances that were intended for other audiences. When justifying the merger to investors, the companies repeatedly made the case that their combination would be highly profitable and successful against the competition. And in documents that were submitted to block other media mergers, the companies argued that such mergers can be harmful.
The Justice Department strategy puts AT&T and Time Warner in the tricky position of having to explain that while, yes, they did write or say those words, they don't imply what the government says they imply.
It's too soon to tell if the Trump administration's strategy will work. AT&T and Time Warner don't directly compete; AT&T is mostly a communications and distribution company while Time Warner is mostly a content company. As I and others wrote recently in Bloomberg Businessweek, it's rare for the government to go to court to block outright such a "vertical" merger—i.e., a combination of two companies that occupy different spots on the value chain, such as a supplier and a customer. It's more common for the government to demand restraints on the companies' behavior in exchange for its blessing. In this case, the government demanded some kind of spin-off—possibly of DirecTV—and sued after AT&T refused.
In a nutshell, the antitrust authorities argue that AT&T/Time Warner could use control over AT&T subsidiaries DirecTV and U-Verse to gain leverage in the programming market and conversely, use control over Time Warner's properties, which include HBO, CNN, TBS, and TNT, to gain leverage in the distribution market.
Here are some of the spots in the 23-page lawsuit, filed in federal court in Washington, D.C., on Monday, in which AT&T or Time Warner's words are cited as evidence against the merger:
"As AT&T has expressly recognized … distributors that control popular programming 'have the incentive and ability to use (and indeed have used whenever and wherever they can) that control as a weapon to hinder competition.'"
"Specifically, as DirecTV has explained, such vertically integrated programmers 'can much more credibly threaten to withhold programming from rival [distributors]' and can 'use such threats to demand higher prices and more favorable terms.'"
"Indeed, AT&T/DirecTV describes the traditional pay-TV model as a 'cash cow' and 'the golden goose.'"
"In sum, as DirecTV itself has explained: '[V]ertical integration of programming and distribution can, if left unchecked, give the integrated entity the incentive and ability to gain an unfair advantage over its rivals. This ultimately results in higher prices and lower quality service for consumers.'"
"AT&T/DirecTV [said it] intends to 'work to make [online video services] less attractive.'"
"AT&T itself has previously stated that access to some of the most popular television programming is 'critical to preserve and promote competition and diversity in the distribution of video programming.'"
"Following this merger, using a bargaining model similar to the one previously endorsed by DirecTV, the eventual price increases to the merged firm's competitors for Turner networks due to the merged company's increased power would likely be at least hundreds of millions of dollars."
"[Turner's] CEO has stated that it has 'leverage' over Dish, whose online Sling TV service 'is shit without Turner.'"
"In a presentation prepared for a meeting with Time Warner executives related to this merger, AT&T noted that, after the merger, the merged company and just three other companies would control a large portion of all three levels of the industry: television studio revenue, network revenue, and distribution revenue. AT&T went on to explain that—given these high levels of concentration— its 'Core Belief #1' is that, notwithstanding the emergence of online video distributors, '[t]he economic incentives of major pay-TV players will encourage stability as the ecosystem evolves.'"
And here's what AT&T said in response to the lawsuit, in a statement attributed to its general counsel, David R. McAtee II: "Today's DOJ lawsuit is a radical and inexplicable departure from decades of antitrust precedent. Vertical mergers like this one are routinely approved because they benefit consumers without removing any competitor from the market. We see no legitimate reason for our merger to be treated differently."
Before it's here, it's on the Bloomberg Terminal.
LEARN MORE