Technology
This Handheld Device Can Give You an Eye Exam in Seconds
PlenOptika's QuickSee is aimed at the developing world as well as the U.S. and Europe.
By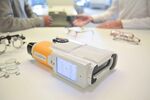 QuickSee, a two-pound handheld device made by startup PlenOptika, measures light shone into users' corneas and lenses to calculate measurements for corrective lenses in a matter of seconds.
Innovator
● Shivang Dave
● Age: 35
● Co-founder and chief executive officer of PlenOptika
● Location: Allston, Mass.
The Benefit
The QuickSee is as accurate as a more expensive desktop autorefractor. PlenOptika plans to supply basic $2,500 models to markets where optometrists are scarce and pricier versions to health-care providers in the U.S. and Europe.
Origin
Dave and three fellow postdocs began developing QuickSee in 2011 with help from a partnership between MIT and the government of Madrid. The co-creators and their company have received about $3.5 million in grants, awards, and angel investment.
Tasks
PlenOptika says clinical studies show QuickSee can deliver a prescription measurement on its built-in screen as accurately as a trained optometrist trying out different lenses on a patient looking at an eye chart.
Incentives
Clifford Scott, president of the New England College of Optometry, says QuickSee's precision gives it the potential to deliver "the best prescription possible."
Challenges
Scott says PlenOptika's plans to improve eye care in the developing world will make profits tough.
The Verdict
Will QuickSee or devices like it replace optometrists?
No, says Scott—they'll just allow eye doctors to see more patients, adjusting to individual needs based on lifestyle and other hard-to-quantify factors, while they let the QuickSee fine-tune prescriptions. "The technology is a great aid," he says. "It's not going to replace people. What it is going to do is make them more efficient." 
Before it's here, it's on the Bloomberg Terminal.
LEARN MORE